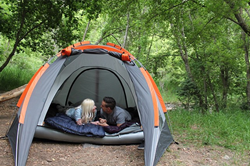 "We've set out to create the world's most comfortable tent."
Eagle Mountain, UT (PRWEB) June 30, 2015
Aesent Outdoors, a start-up tent manufacturer, has launched their new tent design on crowd-funding website Kickstarter.com. The tent is designed to allow campers to sleep more comfortably by integrating a 6-inch inflatable base to the entire floor of the family camping tent. The company is running the campaign for 60 days, during which they are trying raise at least $50,000 to fund their initial order.
Aesent designed the tent to have an inflatable base attached to the floor of the tent via zipper. The base is made out of a specially selected vinyl that makes if far more puncture resistant and rugged than a typical camping air mattress. The base can be removed for times when the user is wanting to camp light, and once removed, the tent can be set up the same as any other tent.
Justin Crane, co-founder of Aesent, mentioned why they felt the need to bring this product to market. "Tent companies have made very few changes to the actual functionality of tents in the past several decades. Sure, there have been tweaks to materials and aesthetics, but nothing has been done to make the camping experience more comfortable. We're not hoping to disrupt that status quo and create something the end user will truly enjoy, we have set out to create the world's most comfortable tent."
The campaign launches June 30th at 11:00AM mountain time. People can pre-order a tent through their campaign for as little as $180, which is a steep discount off the $339 that the tent will cost once it goes into retail. Orders for tent are expected to be fulfilled by early 2016, in time for most customer's next camping vacation. More information can be found on their Kickstarter page at http://www.kickstarter.com or at http://www.Aesent.com.