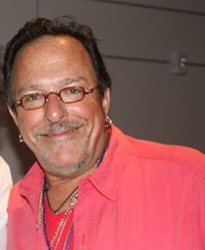 Beverly Hills, CA (PRWEB) June 29, 2015
Alan H. Friedman, the renowned Beverly Hills jeweler and colored diamond dealer known as the "King of Pinks" died of a heart attack on June 21st, 2015 at the age of 60. Alan Friedman is survived by his wife Layna Silvagni Friedman, daughters Caroline, Whitney, Nicole-Juliet, son Nicholas Alan, grandchildren Cadence and Chloe and his sister Susie Cohn. Alan was raised in Omaha, Nebraska, coming from a long lineage in the jewelry industry. His father was legendary Ike Friedman, owner of Borsheim's Jewelry Store, one of the largest jewelry stores in the nation based in Omaha where Alan worked at the young age of 5 helping his family by cleaning display cases even wearing a clip on tie. Borsheim's was later sold to Omaha financier Warren Buffet and Alan went on to put his dream into reality by earning his graduate gemologist degree from the Gemological Institute of America and moving to California after meeting and marrying Layna Silvagni.
In 1993, he and wife Layna (a designer & national event producer) signed the lease on their first showroom Alan Friedman Jewelry in Beverly Hills. By the mid-1990's many of the Friedman designs were available in high-end stores around the country. From a story in InStore Magazine, Friedman said "he designed each piece of jewelry for the one person he believes is destined to fall in love with it. I don't worry 'Is everyone going to like it?' It allows me to push the envelope and be creative and really different from the guild type store. The one comment I get is how unusual my jewelry is compared to anywhere they've ever been. I make 90 percent of what I sell." And 90 percent of the Friedman's designs are one-of-a-kind. Alan developed confidence that he would find a customer for each piece he made. That confidence, he believed, was essential to his success, he discussed with InStore Magazine. "If you're afraid of it and you're worried about selling it, you probably never will," Alan Friedman said. "But if you have an interest in what went into making it and you have the ability to explain and share that, you can make an emotional connection with your customers."
With over 20 years in the jewelry business and countless customer connections, Layna & Alan Friedman have been sought after by many in the entertainment industry, including Mariah Carey, Nick Lachey, Richie Sambora, Janet Jackson, Mike Epps, Regina King, Pierce Brosnan, Lady Gaga, Dr. Dre, Jim Carrey, Vivica A. Fox, Marisa Tomei and many others in addition to the high-profile engagement and wedding rings for TV personality clients Holly Madison and Jenni "JWoww" Farley. Inspired by a love of all things Barbie®, the Friedman's introduced the jewelry industry to one of the nation's favorite style icons with a Barbie®-inspired jewelry collection Barbie™ Rocks by Layna and Alan Friedman. Layna & Alan dreamt of giving girls of all ages a peek inside the ultimate jewelry collection, which reflects a modern day interpretation of Barbie® doll's fun spirit and glamorous fashion sense. Barbie™ Rocks has become a trendsetting brand with celebrity clients including Teri Hatcher, the Kardashian sisters, Selena Gomez, Denise Richards, Gabrielle Union and the collection has been featured on The Real Housewives of Beverly Hills, The View, Shannen Says and more. The Friedman's have always integrated the importance of charity within the Barbie™ Rocks line by donating 5% of every sale to Alicia Keys' "Keep A Child Alive".
Always willing to support local and national charitable organizations, Alan also shared with InStore Magazine, "Layna and I wanted to honor our parents, Ike and Roz Friedman and Anthony and Elizabeth Silvagni, by establishing a business filled with class, elegance and friendships. Our parents welcomed thousands of people into their lives through philanthropy, civic duties and business," Friedman said. "Many people have said that my father's generosity knew no bounds. His parents and my mom's parents came here with absolutely nothing except their freedom, and he taught me to never forget where we come from and how fortunate we are." The Friedman's have supported charitable organizations including the Midnight Mission of Los Angeles, John Wayne Cancer Institute at Saint John's Health Center, Best Buddies, Camp Ronald McDonald, Children's Action Network, Project Angel Food, St. Jude Children's Research Hospital, Cedars-Sinai Women's Cancer Program and numerous Omaha, Nebraska based charities. "Alan was one of the most generous men with his time and heart. He gave to everyone he met with his sincerity and generosity" shared his wife Layna.
Alan Friedman Jewelry is located at 350 North Canon Drive, Beverly Hills. For hours of operation and more information. http://www.alandiamonds.com and http://www.rockandrollltd.com
BARBIE and associated trademarks and trade dress are owned by, and used under license from, Mattel, Inc. © 2015 Mattel, Inc. All Rights Reserved.