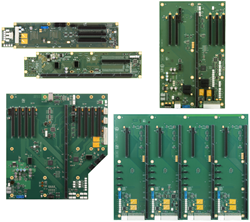 Atlanta, GA (PRWEB) July 01, 2015
Trenton Systems introduces four new High Density Embedded Computing or HDEC Series backplanes. These next generation backplanes take full advantage of the eighty (80) PCI Express 3.0 interfaces and expanded device I/O interconnects provided by an HDEC Series® system host board. Utilizing the eighty native PCIe Gen3 interfaces from an HDEC Series SHB, such as the Trenton HEP8225, increases an embedded computer's data throughput while lowering data latencies. HDEC Series backplanes support a 300% PCIe link expansion over previous embedded computing system architectures.
HDEC Series backplanes represent the next logical progression in edge-card computing technology. HDEC Series backplanes build on the basic goodness of PICMG® 1.3 backplane technologies to enable faster system MTTRs and expanded support for industry standard PCI Express plug-in cards. HDEC Series backplanes are available in a number of different form factors. These backplanes are easily integrated into standard rackmount computer chassis or into custom enclosures designed for embedding inside a machine. The table below contains a short specification summary of Trenton's first four HDEC Series backplanes:
Backplane Model: HDB8227
Card Slots Supported: 1 – SHB, 4 – x16 PCIe
Dimensions: 14.6″/371mm x 3.3″/84mm
Target chassis: 2U Rackmount Computer
Backplane Model: HDB8236
Card Slots Supported: 1 – SHB, 4 – x16, 1 - x8 PCIe
Dimensions: 7.9″/201mm x 12.9″/328mm
Target chassis: Shoebox or 2-in1, 5U Rackmount
Backplane Model: HDB8228
Card Slots Supported: 1 – SHB, 4 – x16, 4 – x4 PCIe
Dimensions: 12.3″/312mm x 12.9″/328mm
Target chassis: 4U Rackmount Computer
Backplane Model: HDB8237
Card Slots Supported: 4 – SHB, 4 – x16 PCIe
Dimensions: 16.4″/417mm x 12.9″/328mm
Target chassis: 4-in-1, 5U Rackmount Computer
All of the PCI Express plug-in card slots on the Trenton HDEC Series backplanes support Gen3 cards electrically and x16 PCIe Cards mechanically. In addition, these card slots fully support automatic link negotiation that enables support for x1, x4, x8 and x16 PCIe plug-in cards having PCIe 1.1, 2.0 or 3.0 interface implementations. A full five-year factory warranty and extended product availability of seven years or more comes standard with Trenton backplanes.
About Trenton Systems
Trenton Systems is a designer and manufacturer of rackmount computer systems, industrial servers, video wall controllers and military computing systems that utilize Trenton's U.S. made system host boards, single board computers, backplanes and embedded motherboards for critical embedded computing applications. Trenton is an Affiliate member of the Intel® Internet of Things Solutions Alliance, a global ecosystem of 250+ member companies that provide scalable and interoperable solutions.
For more information about our company, or any Trenton product, call (800) 875-6031 or (770) 287-3100. Please visit our website at http://www.TrentonSystems.com.
Intel Internet of Things Solutions Alliance is a registered trademark of Intel Corporation in the United States and other countries.
PCI Express is a registered trademark of the PCI-SIG. PICMG is a registered trademark of the PCI Industrial Computer Manufacturers Group.
All other product names are trademarks of their respective owners.
###