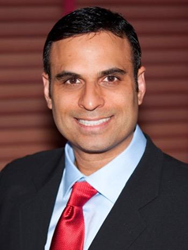 Chicago, IL (PRWEB) June 29, 2015
Dr. Amarik Singh is now welcoming patients who need treatment for receding gums in Chicago, IL, to visit his practice for the new Chao Pinhole® Surgical Technique (PST™). With this technique, Dr. Singh can directly treat gum recession without any need for grafting, large incisions or sutures. As a result, patients enjoy an easier recovery, in addition to long-term protection against various health risks associated with gum recession.
Gum recession can occur for various reasons. Poor oral hygiene routines, bruxism, tooth misalignment, tobacco use, genetics, and periodontal disease are a few potential causes. People who are experiencing gum recession can benefit from seeking early treatment because this gives Dr. Singh a chance to identify and assess the underlying problem, taking steps to prevent health complications associated with gum recession. If left untreated, recession may promote tooth mobility or infections, which can increase the risk of tooth loss. Periodontists have traditionally addressed this issue with gum grafting, but this can cause complications or delayed healing. The Chao Pinhole® Surgical Technique allows Dr. Singh to prevent harmful effects of recession while avoiding these issues.
With PST™, Dr. Singh can treat recession that affects multiple teeth in one session, since the technique does not involve any grafting or suturing. This makes the procedure a convenient alternative to more invasive treatments for many people with receding gums in Chicago, IL. Dr. Singh performs this procedure by making a small pinhole incision in the gum tissue and then reaching through the incision with a tiny instrument, which he uses to gently loosen the gum tissue. Eventually, Dr. Singh can gently nudge the tissue up or down to cover the exposed part of the tooth. The Chao Pinhole® Surgical Technique minimizes trauma, so patients are less likely to notice side effects such as bleeding, pain or infection.
Since gum recession is a slow process, Dr. Singh recommends that patients understand the warning signs of this condition. Visible changes in gumline or tooth length often indicate recession, but many people also notice other symptoms, including tooth sensitivity or indicative awareness that their teeth have become loosened. People who notice these signs of receding gums in Chicago, IL, are encouraged to protect their oral health by visiting Dr. Singh, to determine whether treatment is necessary. Patients can schedule consultations by calling Dr. Singh's office or visiting his website.
About the Practice
Periodontal Implant Associates is a periodontal practice offering personalized dental care for patients in Chicago, IL. After graduating from Northwestern University Dental School, Dr. Amarik Singh went on to obtain his Specialty Certificate in Periodontics and earn his Master's from Northwestern University. Dr. Singh is deeply committed to continuing education and prides himself on remaining on the cutting-edge of the newest techniques and technology in dentistry. Dr. Singh is part of an elite group of dental professionals at the forefront of the Chao Pinhole® Surgical Technique (PST®), a revolutionary new approach to repairing gum recession. To learn more about the periodontal services available at Periodontal Implant Associates, please visit http://www.pidentists.com or call 630-424-9404.