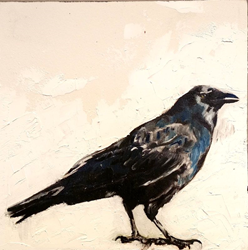 The crow's image symbolizes creation stories and the connection to culture through oral history, which is why I chose it, said Curfman.
Santa Fe, New Mexico (PRWEB) June 29, 2015
The Southwestern Association for Indian Arts (SWAIA) is pleased to announce this year's Indian Market artist fellows in four distinct categories: Discovery, Design, Residency and Youth.
"We were overwhelmed by the talent and diversity of this year's applicants to the Fellowship Program," stated Chief Operating Officer Dallin Maybee. "After much deliberation in the Discovery Fellowship category, our judges selected Fellows from two art forms we have not traditionally looked at in the work of writer Terese Marie Mailhot and filmmaker Razelle Benally."
Mateo Romero (Cochiti Pueblo), acclaimed painter, Indian Market artist, and former SWAIA Board member, was one of the 2015 Fellowship judges.
"This year's entries were very exciting. We have gone from a very small focus to saying that all aesthetic ideas and forms are important," said Romero.
The abundance of talented applicants to this year's fellowship program resulted in SWAIA's decision to award glass artist Daniel Friday 1st Runner-up recognition in the Discovery category. Friday will receive a complimentary booth on the Plaza at this year's Santa Fe Indian Market. The annual Residency Fellows are jeweler Wayne Nez Gaussoin and abstract painter Holly Grimm.
"The Santa Fe Art Institute (SFAI) is pleased to host Wayne Gaussoin and Holly Grimm as the 2015 SWAIA SFAI Residency Fellows. These awards represent SFAI's commitment to cultivating creative practices, engaging with diverse communities, and addressing the most pressing social issues of our time," said Residency Program Manager, Nina Elder.
Painter Del Curfman was awarded the 2015 Design Fellowship and will have his painting of a black crow, titled "Deception," featured on this year's Indian Market merchandise and promotional materials.
"The crow's image symbolizes creation stories and the connection to culture through oral history, which is why I chose it," said Curfman.
"We are thrilled to have Del as the Design Fellow this year and very excited to promote his work in the Santa Fe Indian Market 2015 Merchandise package," said Rima Krisst, Marketing Projects Coordinator for SWAIA.
Finally, SWAIA is proud to announce Youth Fellowship winners painter/photographer Chamisa Edd-Belin, and painter/printmaker Olathe Antonio.
SWAIA's staff and judges want to acknowledge all of the artists who applied to this year's Fellowship Program. The entries were of the highest caliber and uphold SWAIA's commitment to substance, standards and fairness.
"The 2015 individual artist fellows are recognized for their exceptional skill, creativity and leadership," said SWAIA Board Treasurer Elizabeth Pettus. "The Fellowship Program was originally created to honor emerging artists in all mediums and at all ages, as well as provide financial assistance, in an effort to encourage and support them in their artistic growth and endeavors."
"I'm honored and grateful for the opportunity to have the support to create work that I feel strongly about, and that I want to share with the world," said Razelle Benally.
For media inquiries, contact:
Audrey Nadia Rubinstein
505 490 1837
Audrey(at)jlhmedia(dot)com
About SWAIA and Santa Fe Indian Market:
SWAIA is an advocate for Native American arts and culture, and creates economic and entrepreneurship opportunities for Native American artists by producing and promoting the Santa Fe Indian Market as the finest Indian art event in the world; cultivating excellence and innovation across traditional and non-traditional art forms; and, developing programs and events that support, promote, and honor Native artists year-round. http://www.swaia.org
About Santa Fe Art Institute (SFAI):
The Santa Fe Art Institute (SFAI), founded in 1985, takes as its mission an exploration of the intersections of contemporary art and society. By bringing together prominent individuals and institutions in the arts, sciences, and humanities, SFAI enlivens local, national, and international discourse through residencies, lectures, workshops, publications, exhibitions, and educational and outreach programming. Nurturing artists and providing a stimulating, creative atmosphere for their work serves society in an essential way and gives artists the support necessary to take risks and explore possibilities. For young people, the arts allow creativity and innovation to be valued along with the traditional skills for learning. http://www.sfai.org
About the 2015 SWAIA Artist Fellows:
All applicants to Santa Fe Indian Market and the Fellowship Program must be members of a federally recognized tribe.
2015 Discovery Fellows:
Razelle Benally:
Filmmaker/video artist Razelle Benally is Oglala Lakota and Diné. Her Sundance Film institute Native Lab-supported film: I Am Thy Weapon begins production in August 2015. Razelle's SWAIA fellowship proposal explores indigenous artists' connection to themes of identity.
Terese Marie Mailhot:
Writer Terese Marie Mailhot grew up as a member of the Seabird Island First Nations Band in British Columbia, Canada, and now lives in New Mexico. Currently, she is working on a novel called Medicine Wheel, informed by her life growing up on the Seabird Island reservation. Her wit and incisiveness set her apart as a true original, weaving narrative, traditions, and unexpected twists and turns into her storytelling. She offers a powerful commentary and reflection on contemporary Native life.
Dan Friday:
Dan Friday of the Lummi Nation, located in the Pacific Northwest, is a glass artist, currently exhibiting at Blue Rain Gallery Santa Fe. He has spent the past two decades working with glass artists Dale Chihuly and Paul Marioni gaining knowledge and inspiration, and perfecting his skills and talent. Friday's glasswork can already be found in major art collections throughout the world.
2015 Design Fellow
Del Curfman:
Design Fellow Del Curfman is a member of the Crow Nation and grew up in Montana. He has experience in successfully licensing his images commercially, and is represented by the MEI Gallery in Santa Fe, NM. He is 22 years old and attending the Institute of American Indian Arts in Santa Fe. This summer he was awarded an internship at the National Museum of the American Indian in Washington, D.C., and is looking forward to returning to Santa Fe for Indian Market.
2015 Residency Fellows
Holly Grimm:
Holly Grimm is an abstract Diné artist whose work has been shown extensively throughout the Southwest. She is influenced by Navajo rug designs, Chinese painting, and Abstract Expressionism. She is transitioning her art into an environmental/social practice by integrating it with sustainable practices such as Permaculture in dryland Native American communities.
Wayne Nez Gaussoin:
Picuris Pueblo/Diné jeweler, Wayne Nez Gaussoin is the son of famed jewelers David and Connie Tsosie Gaussoin. Wayne is a silversmith who mixes traditional and contemporary elements in his masterful designs. He is also completing the final year of his MFA Program at UNM, specializing in sculpture and art installation.
2015 Youth Fellows
Chamisa Edd-Belin:
Diné painter/photographer Chamisa Edd-Belin says her work is motivated by her Navajo culture, Japanese animation, classical music, and Native modern art. Through her art she shares her heritage, stories, language and the history of her people.
Olathe Antonio:
Olathe Antonio is of Diné and Shawnee heritage, and comes from a family of artists. She likens the preparations and process for creating art to that of giving birth, and the completed artwork the beginning of its life journey.