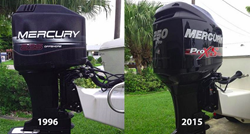 "Every time we went out we came back on our own power," said Ponzio of his Mercury engines. "The motor I just replaced was almost 20 years old and it never failed me. I pay for towing insurance and I've never used it."
Ft. Myers, Florida (PRWEB) June 29, 2015
Mercury Marine, the world leader in commercial and recreational marine propulsion and technology, is offering re-power financing to its customers in hopes of attracting new boaters across the country.
Captain Matt Ponzio, a charter fishing captain in Ft. Myers, Florida has just taken advantage of this opportunity. Ponzio recently purchased a 25' Proline 240 Sportsman with a brand new Mercury Marine 250 ProXS outboard on the back. It's additional power for the Ft. Myers, Florida charter captain who just recently took advantage of Mercury's repower financing option to upgrade from a 1996 225hp Mercury outboard. Ponzio says the new power and new opportunities should lead to increased business and hopefully an expansion in the near future.
"When I decided I was re-powering, I looked at all the shiny new toys and talked to every person I could talk to," said Ponzio. "I had to ask myself, am I buying the best motor that will last me for 10 years or am I buying my next anchor?"
Ponzio runs about 150-180 charters each year on Florida's West Coast and is always asked about his boat, engine, rod and reel choices.
"Every time we went out we came back on our own power," said Ponzio of his Mercury engines. "The motor I just replaced was almost 20 years old and it never failed me. I pay for towing insurance and I've never used it."
"I'm using about 5GPH of fuel compared to the 9GPH I was burning with the old motor. The Enertia prop was money well spent along with the upgrade."
Since migrating down south from New Jersey, Captain Matt says he's seen his business steadily grow to a point that he expects to add a few more boats to his fleet over the next two years.
"I just had a conversation with my fiberglass boat guy and he asked me, why do you run Mercury?" said Ponzio. "I said the first thing is the dependability it'll always start and run. The other thing is speed. He said he has a competitor engine and it's nowhere near as fast as the Mercury I have. I've heard that from more than one person."
For more on this story, you can check out http://www.mercurynewsroom.com and Captain Matt can be found at http://www.smokinreels.com.