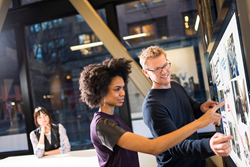 "The goal is to help re-imagine collaboration and the Microsoft Surface Hub is a big part of that story". Jeremy Short, CEO, CSi
Sherman Oaks, CA (PRWEB) July 01, 2015
With Microsoft Surface Hub officially available for pre-order today, Collaboration Solutions Inc. is proud to announce a range of services for customers who have purchased the Microsoft Surface Hub through their online ordering site http://www.collaborationsolutions.com/surface-hub/ or who are looking to evaluate how the Microsoft Surface Hub will impact their business and IT.
Worldwide there are over 50 million collaborative spaces, 10 million large conference rooms, and 200 million personal offices that provide collaborative experiences. Most of these collaborative spaces have a need for large interactive displays, group audio/video conferencing technology, and digital white boarding.
CSi has received overwhelming interest from customers who wonder if the Microsoft Surface Hub will improve their collaboration experiences, but there could be concerns about what is needed to maximize the value of the Microsoft Surface Hub in different environments.
In order to address those concerns, CSi elevates the opportunity for clients to envision their own collaborative spaces and addresses needs such as a distributed work forces and dramatically increased team productivity.
CSi announces the Microsoft Surface Hub Readiness Program, a new line of services that will help customers best prepare and plan for the Microsoft Surface Hub, and created to ensure the new platform will exceed needs and expectations.
Getting Microsoft Surface Hub ready takes some consideration.
What are the business scenario's that should be prepared for?
CSi can assess existing and future collaboration scenarios that can be brought to life with the Microsoft Surface Hub.
What Microsoft Infrastructure is already in place, if any?
CSi ensures that the Microsoft Surface Hub will work seamlessly with a Microsoft Office infrastructure, whether on premises or in the cloud.
Has IT considered Network Performance readiness?
CSi makes sure both the network and physical infrastructures (from security to capacity) are optimized for the Microsoft Surface Hub.
Unlocking the power of the group means more to CSi than simply installing hardware – it means CSi clients and Microsoft Surface Hub adopters receive unprecedented 'concierge style' service that ensures the highest level of customer service and experience.
"We're not in the business of simply dropping off Surface Hubs on doorsteps," says Jeremy Short, CEO, CSi. "We're going to assess physical and technical environments, deliver and install with white glove service, and empower staff with tools, knowledge and unprecedented support services. We build the experience for customers, with customers, from the beginning."
CSi is the only provider of full spectrum custom business software solutions that light up the Surface Hub. CSi is one of the first approved resellers of the Microsoft Surface Hub and is also an Elite Surface Hub partner, the highest tier possible in the Microsoft Surface Hub partner family. CSi is already creating new products and custom business solutions that target the Microsoft Surface Hub with many Microsoft Surface Hub early adopters across a wide range of industries including manufacturing, healthcare, education and energy.
CSi handles all collaborative needs including collaboration space design, Skype for Business implementations, integration and customization of Microsoft Office and Microsoft SharePoint environment, as well as Business Intelligence, visualization and custom business solutions that help customers re-imagine their collaboration experiences. CSi takes care of the full breadth of the collaboration life cycle, from preparation through pilot, implementation, monitoring and support.
"The Microsoft Surface Hub is a natural evolution to the tremendous volume of work we've done with Microsoft Perspective Pixel and Microsoft Skype for Business, previously called Lync," adds Angela Hlavka, CTO, CSi. "The Microsoft Surface Hub allows us to bring together a deep experience with implementing these existing platforms with an ability to build custom business solutions into a single platform and set of offerings. We're really excited about what new opportunities will be enabled for customers."
"We ensure a Microsoft Surface Hub does not sit alone in a corner, collecting dust and buyer's remorse," adds Jeremy. "The goal is to help re-imagine collaboration and the Microsoft Surface Hub is a big part of that story."
It starts with a call or a visit to the website
A complimentary call with CSi will get people ready for the Microsoft Surface Hub faster and more efficiently. CSi walks people through a specific and comprehensive readiness program. When ready to implement, CSi is there to help with the purchase, installation, configuration, training/usage, to unlock the power of the Microsoft Surface Hub with collaboration expertise.
Contact info(at)collaborationsolutions(dot)com or (855) 437-8991 to schedule a free consultation call to 'Get Ready for the Surface Hub'.
To get all the latest news, information and product updates,visit the CSi website. http://www.collaborationsolutions.com/surface-hub/