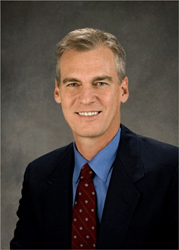 At Harmony 2015, attendees will hear from experts who, like Gov. Parkinson, have actually taken steps to improve care, quality, operations, compliance and regulations across the continuum.
Topsfield, MA (PRWEB) June 30, 2015
Leaders in post acute care will gather together in Connecticut in early November at one of the industry's premier thought leadership symposiums, "Harmony 2015" hosted by Massachusetts-based Harmony Healthcare International. The event attracts over 250 administrators, directors of nursing, rehabilitation managers and other management and corporate personnel representing the skilled nursing and assisted living markets.
The Honorable Mark Parkinson, the 45th Governor of the State of Kansas and the current President and CEO of the American Health Care Association (AHCA) and the National Center for Assisted Living (NCAL), will give the keynote address at the event. His organization represents more than 12,000 for- and not-for-profit nursing homes, assisted living organizations and centers for the care of people with intellectual and developmental disabilities.
"Gov. Parkinson's passionate commitment to America's elder population is exemplified by the way he has steered AHCA/NCAL towards delivering policy solutions for today's health care and budget challenges, by reaching across Congressional party lines and improving relations with government agencies," said Kris Mastrangelo, OTR/L, LNHA, MBA, President and CEO of Harmony Healthcare International, "We look forward to hearing his message and learning more about his vision for the future of post acute care and the elder population that we all serve."
Harmony 2015 will be held at Foxwoods Resort Casino in Ledyard, Connecticut on November 5 and 6, 2015. The symposium will spotlight several featured industry and thought leaders who will address topics relevant to the state of the post acute care industry today. In addition, 24 break-out sessions will be offered on a variety of clinical, operational, financial and marketing topics. Up to 12 hours of continuing education credit will be offered for Nursing Home Administrators, Nurses, Speech Language Pathologists, Occupational and Physical Therapists. Registration information and costs can be found at http://hhi.hub.am/1GCnnkY.
"This year's theme, "Engage: Don't Just Age" promotes the idea that taking action in bettering the lives and lifestyles of our nation's elder population is of paramount importance," said Mastrangelo, "At Harmony 2015, attendees will hear from experts who, like Gov. Parkinson, have actually taken steps to improve care, quality, operations, compliance and regulations across the continuum."
About Harmony Healthcare International
Harmony Healthcare International was founded in 2001. With headquarters in Topsfield, MA, Harmony Healthcare International services clients in the skilled nursing, acute care, home health and assisted living markets with operational and compliance consulting, training and educational programs and talent management services. With a staff of accomplished healthcare clinicians who serve as consultants to For-Profit, Not-For-Profit, Standalone and Multi-Facility Chains across the country, Harmony Healthcare International has been ranked among the top 5,000 fastest growing private companies in the U.S. for 3 consecutive years by Inc. Magazine. Harmony Healthcare International, "We care about care." Visit us at: http://www.harmony-healthcare.com/
Media Contacts:
Jon A. Di Gesu
Vice President of Marketing
jdigesu(at)harmony-healthcare(dot)com
@JonDiGesu
(O) 978.887.8919 (C) 603.770.5731
AHCA/NCAL
AHCAPressOffice(at)ahca(dot)org
(202) 898.3165