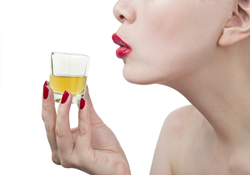 We love simple, powerful and natural - and that is what the organic Sesame Oil and Oil Pulling is all about, says Kathy Heshelow, founder of Sublime Beauty NATURALS®.
St. Petersburg, FL (PRWEB) June 30, 2015
Sublime Beauty NATURALS® introduces its new USDA Certified Organic Sesame Oil this week, with a special 50% Off offer. The oil, ideal for natural skincare and even culinary uses, was especially designed for Oil Pulling.
To transform health a natural and easy way is something most people desire, and Oil Pulling can accomplish this. Oil Pulling is an Ayurvedic practice that is easy and very powerful.
Swishing oil in your mouth once (or even twice) daily draws out bacteria, viruses, fungi and other critters from the mouth. It has worked for 5000 years because oil attracts oil: the toxins rush to adhere to the Sesame oil.
"We love the simplicity and power of Oil Pulling," says Kathy Heshelow, founder of Sublime Beauty Naturals®. "I swish the oil every day (morning and before bed), and have smoother, whiter teeth, a healthier mouth and less risk of disease."
By taking the toxins out each day, risk of both oral disease (such as gum disease, cavities and plaque build up) are less and the risk of other disease in the body from these toxins is also reduced. There is a direct correlation between oral health and body disease, well documented by the Centers for Disease Control, the Surgeon General and many medical groups.
Heshelow set up an Oil Pulling information site, and has an Oil Pulling 101 section available on the Sublime NATURALS® site. A special Guide is available now: How to Transform Your Health in only 10-20 Minutes Daily.:
For a very limited time, the new USDA Certified Organic Sesame Oil (the traditional choice for Oil Pulling) is 50% off on Amazon with code SESAME5X.
ABOUT: The motto of new company Sublime Beauty NATURALS® is "Make Healthy Choices, Respect Your Body, Love Nature." The company offers products for wellness and beauty, and will be rolling out products during 2015.