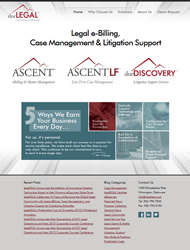 We are making it clear our focus is on our clients and their legal service needs
Wilmington, DE (PRWEB) June 30, 2015
doeLEGAL, innovator of collaborative legal eBilling, eDiscovery, and law firm case management services for corporate legal departments and law firms, has launched its new website delivering a cleaner and more streamlined website. Here visitors may explore the valuable solutions designed to lower costs and increase efficiency.
A key area of the new website focuses on their Five Tenets of Distinction:

Predictable Cost of Ownership… Know your costs from Day 1.
Superior Technology & Software… Unmatched software innovation and functionality
Configured to Your Unique World… Designed and configured to work the way you do
Exceptional Client-Focused Support… Supported by the responsive experts that designed it
Built on a Foundation of Collaboration… Keeping all parties on the same page in real-time
Tom Russo, President & CEO of doeLEGAL stated, "Considerable time and attention went into designing the new website. Our focus has always been on our clients so we made that our primary message. We listened to what our clients and visitors wanted to see when exploring legal service providers. These include clearly differentiating business characteristics as well as the overarching corporate mission and culture. We are making it clear our focus is on our clients and their legal service needs."
Marketing and Sales came together to develop a content-rich site that tells their value proposition story clearly, keeping the message concise and straightforward. With over 44 years of service to the legal community, their knowledge of clients' daily needs comes from vast experience in the trenches.
Bruce Kuennen, Sales Director at doeLEGAL, comments, "Our audience can find hundreds of similar sites when seeking outside service providers to help overcome the challenges legal departments and law firms face. Our new site is easier to navigate, logically categorizes what we offer, and provides a more concise and efficient experience."
About doeLEGAL:
doeLEGAL remains on the leading edge of the collaborative legal innovations provided to corporations' legal departments and law firms for eDiscovery, eBilling, and Case Management. doeLEGAL is dedicated to earning every client's business every day through a new 5-tenet differentiation model including predictable cost of ownership, distinctly superior technology & software, configured to your unique world, exceptional client-focused support, with solutions built on a foundation of collaboration. As the legal needs of clients change, they continually increase their capabilities to match the new demand in both technology and personnel. doeLEGAL holds distinctive expertise in Legal Spend and Litigation Management, making them uniquely qualified to add greater value to each legal solution. For more information, please contact doeLEGAL at 302-798-7500 or e-mail to info(at)doelegal(dot)com.