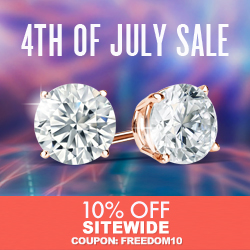 Los Angeles, California (PRWEB) June 29, 2015
DiamondStuds.com has taken the stress out of shopping for summer time gifts by offering customers a great deal on all of their collection and stunning pieces for Fourth of July. DiamondStuds.com proudly makes all of their pieces in the USA and is offering this amazing discount in honor of Independence Day. DiamondStuds.com will be giving their customers 10% off of their purchase until 11:59pm EST on 07/05/15 . This time of the year is filled with spending time outdoors and getting some fresh air. What better way to dress up any summertime outfit than with sparkling diamonds. With a vast selection of diamond earrings, rings, and pendants, DiamondStuds.com is sure to help their customers find a unique piece made just in time for all those summer parties, weddings, and occasions.
With such an incredible discount, DiamondStuds.com is sure to please all their customers this summer season. You can find the perfect diamond jewelry gifts hand crafted in the United States for your loved ones on DiamondStuds.com.
About DiamondStuds.com:
Armed with a mission of lasting excellence and superior knowledge about diamonds, DiamondStuds.com focuses solely on diamond jewelry. The attention to details allows the company to offer their consumers the largest selection of fine diamond jewelry online. DiamondStuds.com also provides a huge array of customization options, enabling each individual to create an exquisite pair of studs, halo earrings, gemstone earrings or fashion earrings unique to his or her personal preferences. To learn more about DiamondStuds.com, please browse the website at http://www.diamondstuds.com. Customers can call DiamondStuds.com at 1-855-WOW-STUDS (1-855-969-7883), to speak live with a diamond expert or send an email to info(at)diamondstuds(dot)com.