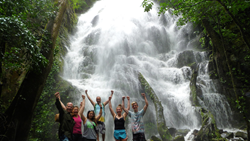 "more than 60% of our sales last year were from the baby boomer generation"
La Fortuna, Costa Rica (PRWEB) July 07, 2015
The Costa Rica Tour Company is expanding to La Fortuna, Costa Rica to accommodate a growing luxury adventure vacation market. Baby boomers now control 80% of all financial assets, account for half of all consumer spending and 80% of all leisure travel, according to Covington Capital Management.The first baby boomers reached the average retirement age in 2013, and with millions more retiring since, there is no doubt that they will control the travel industry for many years to come. It is no surprise that they are the most sought after travelers, but it is surprising that their idea of vacation is much different than what many people in the travel industry expected.
It appears that a generation largely defined by working long hours and saving, are preferring adrenaline activities such as surfing, whitewater rafting, canopy zip-lines, horseback riding and hiking to rainforest waterfalls. The days of 50 or more people riding a tour bus has given way to private adventure vacations with chauffeurs, personal guides and luxurious rental homes with private chefs. Small, privately owned adventure tour businesses located throughout Costa Rica are now expanding to meet the growing demand.
Stephanie Hermance, owner of Costa Rica Surfing Company, confirms the growing trend, stating "more than 60% of our sales last year were from the baby boomer generation". She continues by adding "these baby boomers are not only adventurous, but they also tend to bring their children and grandchildren on their vacations, further increasing sales". Stephanie goes on to say "my company is expanding to Tamarindo in order to keep up with the new adventure travel demand". In fact, 2.5 million adventurous travelers arrived in Costa Rica in 2014, up from 1.1 million just 10 years ago. According to the Costa Rican Tourism Board, the average vacation stay is now over 12 nights and spending increased by 10% from 2013. Much of the growth was fueled by baby boomers who have the largest disposable income in U.S. history.
Costa Rica is one of the countries at the forefront of this new luxury adventure travel market. Easily accessible from the United States, Costa Rica has a stable government, no standing army and is incredibly eco-friendly. The country boasts 14 volcanoes, rainforest, 1,100 miles of coastline, hot springs and hosts more than 500,000 plant and animal species. The most popular adventure tours include; whitewater rafting, canopy zip-lines, horseback riding, ATV tours, kayaking, surfing, hiking, mountain biking and boating. Accommodations are diverse, ranging from world class hotels and spas to beach and lake front home luxury condos. Costa Rica features the adventure vacation that many baby boomers are looking for and now offers non-stop flights from many US cities. It is now clear that as more baby boomers retire, they will shape the travel market more than any other generation that has come before them.
About Costa Rica Tour Company
Founded in 2013 by Russell Hermance, Located in La Fortuna, Costa Rica. Costa Rica Tour Company offers private, all-inclusive adventure vacations to Costa Rica. Featuring three unique adventure packages with adventure tours, lake view villas, personal guides, spa services, photographer, chauffeured transportation and concierge service.
http://www.costaricatourcompany.com/