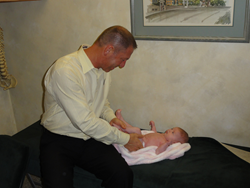 Most people are shocked when they hear that we take care of infants," he said. "Then, when they see the results, as well as the actual adjustment- which is much different from an adjustment to an adult- they are pleasantly surprised
Rochester, IN (PRWEB) July 01, 2015
Seeing a chiropractor for ear aches? Isn't that like seeing a dentist for headaches?
And babies? Why in the world would a parent take their infant to see a chiropractor?
Those are the questions that Dr. Mark Heal wants people to ask. "Most people are shocked when they hear that we take care of infants," he said. "Then, when they see the results, as well as the actual adjustment- which is much different from an adjustment to an adult- they are pleasantly surprised."
Heal has evaluated infants hours old. "When child birth is challenging, sometimes there is force used or complications and pressure to the baby. That's where gentle, specific chiropractic care comes in at this early age to remove nerve pressure."
The first subluxation is usually present for decades before being diagnosed-that's why it's vital to be checked by a chiropractor from birth. Many problems in adulthood can be traced to a subluxation that occurred earlier on in life. A child falls on average 2000 times by the time they are 5 years old. Two hundred of those are considered serious and could be causing a subluxation. Vertebral subluxations change the entire health of the body by causing structural dysfunction of the spine and nerve interference. The weight of a dime on a spinal nerve will reduce nerve transmission by as much as 60%. Only 18% of all nerve fibers in the human body are designed to produce pain when that specific nerve is being pinched. The remaining 82% are not designed to produce pain when a nerve is being pinched, which means someone could have a subluxation and not even realize it. Having a subluxation is like having a poor cell phone connection between brain and body. Vertebral Subluxations also produce degeneration within the body and this is why they are known as "The Silent Killer". Subluxations KILL!
For more information on how chiropractic and natural health care can help you contact any AlignLife clinic and sign up to attend an "Align Your Life Workshop", to find a local clinic visit AlignLife.com.