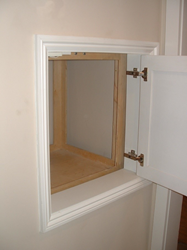 Butler dumbwaiters are proudly made in the USA.
Lewisberry, PA (PRWEB) June 30, 2015
Due to today's housing market, many people cannot afford to "down size" as they get older. That makes life a little more difficult as they have to make adjustments as to how to carry laundry or groceries from one level of their home to another.
Many of today's homes have laundry facilities in the basement or first floor of the home, and the bedrooms are located on another floor. This condition makes it difficult for a person with mobility problems to get the laundry to the area where it is needed.
And there are tons of homes out there with those pesky garages located under the first level of the home. Even a person in good health gets weary of carrying groceries from the car up to the kitchen area.
Butler Mobility Products announce a solution. The custom sized dumbwaiters can solve transport problems. Butler Mobility offers a line of premium quality electric dumbwaiters which can be customized to fit any needs. Dumbwaiter cars can open on one, two, three or four sides and corners too. Load capacities range from 100 lbs to 450 lbs and can go up to seven stories. When a custom dumbwaiter is ordered, it comes with a complete set of drawings and a step by step installation manual. It is easy to install and maintenance, and has a five year warranty for residential applications.
Butler dumbwaiters are proudly made in the USA. Give Butler Mobility a call using the number 888-847-0804, or visit their website http://www.butlermobility.com, to help solve grocery or laundry moving problems.