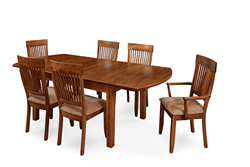 Nappanee, IN (PRWEB) June 30, 2015
As the nation turns to honoring its independence this week, families and friends across America are coming together around the table. Yet, for those wounded while defending our country, the elderly and anyone who is wheelchair bound due to disabilities, the celebrations may be more low-key.
Aware that wheelchair users face access barriers on a daily basis, to the point that even being seated comfortably at the family dining room table can be a challenge, Borkholder Furniture has created the solution: The innovative Samantha Table, handcrafted in America by Amish artisans and designed to easily accommodate anyone seated in a wheelchair.
***B-Roll Link Below/downloadable Broadcast Quality—Television interviews also available in-studio or via Skype beginning Tuesday, June 30, with Tom Halvorsen, vice president of Borkholder Furniture.
To download broadcast quality B-Roll, please click here.
To book an interview, contact Tom Halvorsen @ (828) 773-2005 or via email, Thomas(dot)Halvorsen(at)borkholderfurniture(dot)com