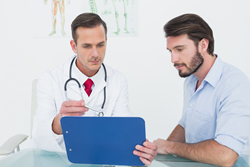 Houston, TX (PRWEB) July 01, 2015
Did you know that infertility in men is more common than couples may think?
June is Men's Health Month, and we at Advanced Fertility Center of Texas (AFCT) would like to talk about some natural ways to increase testosterone and boost fertility in men.
While infertility is often considered to be a "woman's issue," male fertility factors can play a role in about 40% of couples who are experiencing difficulty with getting pregnant. Fertility in men can be affected by medical conditions, environmental factors, and family history. Recent medical developments have improved tremendously in assisting infertile couples in achieving pregnancy. However, lifestyle modifications and holistic approaches can also offer natural solutions for increasing male fertility.
Studies have shown that environmental toxins can lead to male infertility, low sperm count, and abnormal sperm morphology. Lisanne Wellness Center is a part of AFCT and offers an Ionic Foot Bath service, a whole-body detoxification that utilizes ions to purge toxins and harmful metals that may be associated with male infertility.
Other natural ways to increase testosterone and fertility include the following suggestions:

Maintain a healthy weight: normal BMI (body mass index) between 18.5 and 24.9 (calculate your BMI here: http://www.nhlbi.nih.gov/health/educational/lose_wt/BMI/bmicalc.htm).
Avoid plastics: phthalate-free and BPA-free containers are usually safe.
Eat more leafy greens: they are rich in vitamins, minerals, and antioxidants.
Reduce your carb consumption and eat more mono-unsaturated fats: avocados, olives, olive oil, nuts, and nut oils.
Do more squats, push-ups, and jumping jacks: these exercises accelerate visceral fat burning and aid in weight loss.
Consider supplements such as coenzyme Q10, acetyl-L-carnitine, L-arginine, zinc, selenium, and vitamins C, E, and D: these can increase sperm count, quality and improve blood flow (discuss with your doctor, which supplements are best for you).
Have intercourse (sex) at least two to three times per week during the fertile period: long periods of abstinence can decrease sperm quality.
Avoid smoking and recreational drug use: cigarettes and recreational drugs, including anabolic steroids and marijuana, are associated with decreased sperm count and quality.
Remember, staying fit and eating a healthy diet increases your fertility and improves your overall health. Contact Advanced Fertility Center of Texas or Lisanne Wellness Center to discuss various other ways to improve your fertility.
About the center:
Advanced Fertility Center of Texas has several fertility treatment centers located throughout the Houston metropolitan area, in The Woodlands, Memorial City, Katy, and College Station, offering the most comprehensive, cutting-edge fertility services available. We assist couples and individuals in experiencing the joy of parenthood by providing the entire range of fertility services on-site, including artificial insemination, injectable gonadotropins, and in vitro fertilization treatment as well as treatment for endometriosis, polycystic ovary syndrome, and other gynecologic conditions.
Lisanne Wellness Center, located at the Memorial City - Katy Freeway office, provides detoxification regimens, including popular ionic footbaths: lisannewellnesscenter.com
To schedule an appointment to find out more, please call (713) 467-4488, ext 31. You may also email us at info(at)afctexas(dot)com or visit our website at:http://www.infertilityanswers.com.