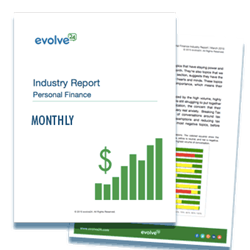 "Instead of forcing responses to specific questions, we're collecting information based on what individuals actually care about." - Karin Kane, Chief Operations Officer, evolve24
St. Louis, MO (PRWEB) June 30, 2015
evolve24, a company that provides consumer insights based on big data analytics, announced the launch of its line of industry insights reports. These reports identify trends and emerging issues, and show what matters most emotionally to consumers in each industry. The reports are designed to improve content marketing, inform creative campaigns, mitigate risks, aid product development, adapt market research, and more.
"Our insights are based on real-time conversations from hundreds of millions of sources," said Karin Kane, Chief Operations Officer at evolve24. "Instead of forcing responses to specific questions, we're collecting information based on what individuals actually care about. These insights are relevant and timely and can be used for informing everything from campaign design through product development."
Each insight is based on more than 3.5 million industry conversations from social and traditional media.
The insights are designed to help marketers:

Improve content marketing. The reports focus on topics of significant interest based on combined indicators – not just volume or sentiment. Each topic could be used as a subject of a campaign or content series designed to increase brand awareness.
Inform creative campaigns. Messages that target underlying emotions are most effective, and each of the topics mentioned in the report are discussed with emotional intensity.
Avoid emerging risks. These reports track emotional topics as they emerge and change each month. Many of these topics have the potential to become divisive, or threaten a brand's reputation or position.
Aid product development. The important topics are based on ideas shared among consumers so they offer great inspiration for new brand positioning, new products, or adaptations of existing products.
Adapt market research. Traditional market research can only provide answers to questions that are asked. In many cases, the questions asked are not related to issues that matter most to consumers. These reports take an unbiased approach.
evolve24 currently offers Insight Reports in the Personal Finance, Beverage, and Food industries, with more launching in late summer. Contact evolve24 at 314-225-1310 or info@evolve24.com for more information.
ABOUT EVOLVE24
evolve24 is a data analytics and insights company that measures audience perception to enable clients to make confident business decisions. With bleeding-edge technology and patent-pending analytics, like Opinion, Emotion, Trust, Network Influence and PreCISE™, evolve24 uses big data to derive market and consumer insights, measure program effectiveness and provide anticipatory issue intelligence through innovative research, dashboards and portals. Learn more at evolve24.com or follow @evolve24.