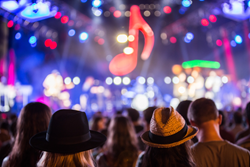 ...make plans to experience a July 4th weekend that can only be Made in Tennessee.
NASHVILLE, Tenn. (PRWEB) June 30, 2015
The red, white, and blue will ring true in Tennessee this Independence Day with an abundance of festivities and freedom celebrations across the state. According to AAA, 41.9 million Americans will journey 50 miles or more this Independence Day. Tennessee expects to have their fair share of those travelers celebrating at a myriad of festivities. From the first parade, kicking–off at midnight in Gatlinburg, to the largest fireworks in the nation in Nashville, make plans to experience a July 4th weekend that can only be Made in Tennessee.
Gatlinburg will celebrate the 40th anniversary of their 4th of July Midnight Parade, an event recently named by National Geographic Traveler as a "Top Ten Parade to see in the U.S." As the first Independence Day celebration in the nation, stepping off at 12:01 a.m. on Saturday, July 4, 2015, the Parade is accompanied by cheers from close to 80,000 spectators, many of whom begin securing their places at 7 a.m. July 3. Events continue throughout the day including the noon River Raft Regatta at Christ in the Smokies bridge on River Road. The annual fireworks display sets off at 10 p.m. in the heart of downtown Gatlinburg.
The celebratory spirit will be in abundance at the Pigeon Forge Patriot Festival this year as the event, in its 25th year, will host multi-award winning country music group Diamond Rio, a band celebrating 25 years together. Patriot Festival activity begins at noon with children's games. Live stage entertainment begins at 1:30 p.m. The festival will go out with a bang as a much anticipated fireworks show will begin just before 10 p.m.
Visitors and locals in Nashville site Music City is the place to be for July 4th during the Let Freedom Sing: July 4 in Music City celebration. This annual event is the city's largest, one-day party with live music, family activities, food and one of the nation's best fireworks displays. This year is sure to impress with musical guests Martina McBride, Mikky Ekko, and a host of others. The fireworks display will be accompanied with music by the Grammy Award-winning Nashville Symphony. Attend one of the biggest Nashville parties of the year and, bonus, it's all free!
Knoxville will be in full celebration mode with food, fireworks and family fun during their Festival on the 4th as it kicks off at 4 p.m. at the World's Fair Park. Festivities include a kid's zone and a wide variety of music performances, including Americana music by Handsome and the Humbles on the festival lawn followed by a blend of classic rock and beach dance music by Bantum Rooster at 6:15 p.m. On the performance lawn, bluegrass favorite Misty River will be performing at 5:30pm. The musical finale will be performed, starting at 8 p.m., by the Knoxville Symphony Orchestra with a fireworks extravaganza.
Other notable events can be found below. For a full list, visit http://www.tnvacation.com/calendar.
July 1
Munford – Celebrate American freedom with a free family event featuring music, games and a fireworks display 7:30 p.m. in Munford City Park.
July 2 – 4
Jonesborough, Tenn. - 45th Annual Jonesborough Days Festival - Tennessee's Oldest Town will celebrate Independence Day with family activities, regional music, parade, fireworks and storytelling. Admission to the festival is free and open to the public.
July 3
Hendersonville, Tenn. - Freedom Festival at Drakes Creek Park featuring The Broomestix and the Garage Revival Band, live auction at 6:30 p.m. and fireworks at 9 p.m.
Murfreesboro, Tenn. – Independence Day Picnic at Oaklands Historic House Museum. Guests will enjoy live music from Bonnie and Bonnie while kids can play 19th century lawn games 11 a.m. to 3 p.m.
Smyrna, Tenn. - Independence Day Celebration - Smyrna will celebrate the nation's independence a day early with events and activities for all ages. The night will culminate with a breathtaking fireworks display at Lee Victory Recreation Park.
Tiptonville, Tenn. - Feel the Rumble Concert & Fireworks - Discover the wonders at the historic Reelfoot Lake created by an early 1800's earthquake while enjoying music from Blend, fireworks, picnics, boat rides and more.
July 3-4
Chattanooga, Tenn. - Lake Winnepesaukah Amusement Park's Independence Day Celebration - Family fun on Lake Winnepesaukah as one of America's top ten family amusement parks will light up the sky with spectacular fireworks shows at 10:00 p.m. each evening.
Cookeville, Tenn. - 4th of July Slide the City Celebration - Celebrate in the smallest city to ever host a Slide the City event and enjoy an 800-foot water slide running through the heart of downtown. Event to also feature car show and largest fireworks display between Nashville and Knoxville.
Lexington, Tenn. - Festival of Lakes & Fireworks Extravaganza - Live music at Beech Lake on Friday evening followed by boat races, live entertainment, a pageant, and fireworks on Saturday.
July 3-5
Jackson, Tenn. - Riders & Rockabilly Rally/Blues Hog BBQ & Music Fest - Experience a variety of musical genres over three days as well as motorcycle dice runs, classic car show, 5k Run; coinciding with a Kansas City Barbecue Society sanctioned competition.
July 4
Bristol, Tenn. - Border Bash Concert Series - Ian Thomas and the Band of Drifters along with Bill and the Bells to headline as part of the July 4th Weekend events in downtown Bristol TN/VA. The event is free and open to the public.
Dover, Tenn. - 1850's Independence Day Celebration - Enjoy patriotic crafts, games , food and more at the Homeplace 1850's Working Farm and Living History Museum. Event will include old-time relay races, horse shoe throw, refreshments, and hot air balloon ascension.
Nashville, Tenn. - Red, White & Boom! at Adventure Science Center - Special event from 6 to 10 p.m. offers live science demonstrations, laser shows, music, food trucks, easy parking and—most importantly—an unobstructed view of the downtown Nashville fireworks.
July 4
Dyer, Tenn. - 31st Annual Dyer Station Fourth of July Celebration - Week long celebration with cake walks, Rook tournaments, arts & crafts, parade, pet show, classic car/truck & bike show, antique tractor show and of course, fireworks.
Gallatin, Tenn. - July 4th Celebration - Food, craft, specialty booths, kid's corner, and music featuring country, 50's and 60's rock 'n' roll, and gospel. Entertainment begins at 2 p.m. Giant fireworks display at 9 p.m. at Gallatin Civic Center.
Goodlettsville, Tenn. - July 4th Celebration - Come out to Moss-Wright Park for a patriotic celebration featuring an activity zone, food vendors, and eating contests. National anthem to be performed by the Community Band at 4 p.m. Fireworks at 9 p.m.
Jackson, Tenn. - Firefighters Freedom Festival - Pack a picnic and grab your lawn chair. This free festival offers a 5K race, children's activities, live music, and fireworks at the McKeller-Sipes Airport.
La Vergne, Tenn. - 4th of July Celebration - Celebrate America's birthday at Veteran's Memorial Park with an evening of fireworks, music, and fun. 6 p.m. to 9:30 p.m.
Murfreesboro, Tenn - Celebration Under the Stars - Bring your family and friends, your lawn chairs or blankets to McKnight Park and enjoy this community annual event. There will be games and activities for the kids, music, fireworks and refreshments for purchase. Admission is free.
Portland, Tenn. - 4th of July Celebration - Music starts at 7pm, concessions available. Bring lawn chairs and blankets for some family fun. Fireworks at 9 p.m. at The Bridge at Highland.
Union City, Tenn. - 4th of July Celebration at Discovery Park of America - Enjoy fireworks, food, music, and demonstrations. 10 a.m. to 10 p.m. Admission is $10.
White House, Tenn. - Americana Celebration - Enjoy music and entertainment, food, booths, inflatables, and more. Festivities begin at 4 p.m. with fireworks at 9 p.m. at the White House Soccer Complex.
Explore more at tnvacation.com and join other Tennessee travelers by following "TNVacation" on Facebook, Twitter, Pinterest, Instagram and YouTube.