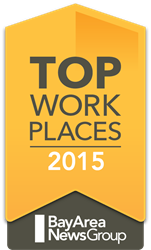 Our employees' dedication is reflected in Course Hero's platform. We've built a great team.
Redwood City, California (PRWEB) June 30, 2015
Course Hero, the leading online learning platform for crowdsourced study resources, has been named as a 2015 Top Workplace on the Bay Area News Group's prestigious annual list.
Course Hero earned this honor based solely on positive feedback from its team members through an employee survey conducted by WorkplaceDynamics, LLC—a leading research firm on organizational health. The survey measured Course Hero's leadership, employee engagement, overall satisfaction, and company culture.
"Since our inception in 2006, we've grown from a team of 3 to one of 75," says Course Hero CEO and Co-founder Andrew Grauer, "It's important to us that our team members' everyday experiences reflect the degree to which we value their creativity, dedication, and passion for improving education."
Course Hero's community isn't contained within the four walls of the office. Since 2006, the platform has grown to more than 5 million users at universities and high schools worldwide. The Redwood City-based company provides educational resources in the form of homework help from expert tutors, customizable flashcards, and more than 7 million course-specific notes, study guides, and practice tests to help students study more efficiently, both inside and outside the classroom.
"Our employees' dedication is reflected in Course Hero's platform. We've built a great team passionate about providing the best educational resources through new and innovative channels—and we're always looking for talented candidates." says Josh Tyler, VP of Engineering and author of the forthcoming book Building Great Software Teams: Recruiting, Hiring, and Managing Your Team from Startup to Success (Apress).
The Bay Area News Group published the complete list of Top Workplaces on June 28, 2015. For more information about the Top Workplaces lists, please visit topworkplaces.com.
# # #
About Course Hero
Course Hero is a digital learning platform providing students with a suite of online educational resources, including crowdsourced study documents, expert tutors, and customizable flashcards. For students exploring new subjects, mastering key concepts—and everything in between—Course Hero offers essential tools to help them achieve their goals and succeed in their courses. To learn more, please visit coursehero.com.