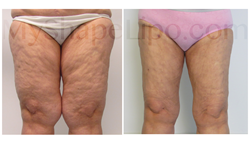 I'm blown away...I'm more active and more importantly I feel better about myself.
Las Vegas, NV (PRWEB) June 30, 2015
Yvonne Disabatino worked as a nurse for the past 45 years devoting herself to the care of others, while simultaneously neglecting herself. She has always struggled with her weight, but as she got older, the problem seemed to get overwhelming.
She thought that at her age, maybe this was just the way it was going to be for her. Then she found MyShape Lipo and her whole world changed. New opportunities and potential were at her finger tips. She found that it might just be possible to accomplish her goals of looking and feeling better about herself.
After consulting with Trevor Schmidt PA-C, the owner and liposuction specialist at MyShape Lipo, she was cautiously optimistic. Schmidt explained to her how upwards of 70-80% of her fat could be removed through liposuction revealing a substantial reduction in size.
Just one month ago, Yvonne had her full abdomen and waist treated first with fantastic results. Nearly 10 pounds of pure fat was removed from her waist line amounting to an amazing 11 inch reduction. Her waist went from 50 inches to 39 inches with a single liposuction treatment, far exceeding her expectations.
"I'm blown away," says Yvonne. "I'm more active and more importantly I feel better about myself. I've had to get a whole new wardrobe, but that's a good thing."
For her second procedure, Yvonne had her full thighs treated with liposuction. Again, she had better than expected results. Despite having excessively large thighs that were plagued with cellulite and loose skin, Trevor Schmidt PA-C the liposuction specialist, was able to work his magic and get incredible results.
"None of my pants fit anymore, they are all falling off of me now," says Disabatino. "The fat was so restrictive, now I can move more freely and do the things that I want."
"I'm so happy for Yvonne," says Schmidt. "It's always a pleasure to play an important role in a persons path to success. She's an inspiration to many older women like her, that believe it's too late."
Yvonne has proved that it truly is never too late to feel better in your own body. After two separate liposuction procedures and a nearly 25 pound weight loss, she is well on her path to her new body. The loss of fat has improved her confidence, made her more active and increased her flexibility.
Most people think that liposuction is for those that are vain, but people like Yvonne are excellent examples of the many benefits that are possible. Liposuction also has health benefits including the reduction of cholesterol and decreasing risk of diabetes, heart disease and stroke.
About MyShape Lipo
Located in Las Vegas, MyShape Lipo is a specialty liposuction clinic who attracts patients from around the world. Trevor Schmidt PA-C, the liposuction specialist has the experience of over 15,000 liposuction procedures on all shapes and sizes. All of their procedures are completed with local anesthesia for a safer more cost effective procedure. They offer complimentary "Body Shape Analysis" in person for locals or via the phone for their out of state patients. Call now to schedule yours, 702-818-5476.