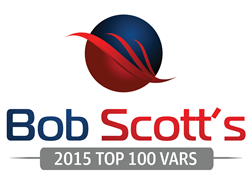 "We are honored to be recognized in this year's Top 100 VARs list, as it demonstrates Ignify's continued growth and commitment to providing high quality software and services." - Sandeep Walia, CEO of Ignify
Long Beach, CA (PRWEB) June 30, 2015
Global ERP, POS, eCommerce, and CRM solution provider Ignify has been named to the Bob Scott's Insights Top 100 VARs for 2015. The company was honored among the premiere VARs in the country specializing in the sale and implementation of Enterprise Resource Planning (ERP) and accounting software, and was ranked 23rd in the top 100 VAR list.
"Our team at Ignify is continually working to raise the standard in ERP implementation to improve our clients' revenue, workflows, and business processes," said Sandeep Walia, Chief Executive Officer of Ignify. "We are honored to be recognized in this year's Top 100 VARs list, as it demonstrates Ignify's continued growth and commitment to providing high quality software and services."
"We want to congratulate this year's class of Top 100 VARs," said Bob Scott, executive editor of Bob Scott's Insights. The selection is based on annual revenue generated by each mid-market reseller. Ignify has also been ranked in Accounting Today Magazine's Top 100 VARs in 2014 and 2012.
Ignify's high placement on this year's Top 100 VARs list follows continued multi-year revenue growth at Ignify. A company that focuses on being as dynamic as the services it provides, Ignify is dedicated to improving implementation processes to the benefit of its clients. Over the years, Ignify has grown both in staff size and revenue while targeting increasingly ambitious companies in the enterprise-level club.
Microsoft Dynamics AX offers companies a powerful, agile, and intuitive system to manage and forecast both administrative, financial, and operational aspects of business. By developing targeted products for specific industries, Ignify has positioned itself as an expert in many industries including retail, distribution, consumer packaged goods, real estate and maritime.
Ignify's excellence at implementing Microsoft Dynamics AX has also garnered recognition by Microsoft. Ignify has been named Microsoft Partner of the Year for the past six years, and has previously been awarded membership into the Microsoft Dynamics Inner Circle and Microsoft Dynamics Presidents Club. These honors are reserved only for the top performing Microsoft partners.
"Ignify's success is based on our dedicated team members and world-class clients," said Pankaj Kumar, Chief Technology Officer of Ignify. "By constantly pushing ourselves to keep on the cutting edge of industry trends, Ignify is able to stay ahead of the competition and provide exceptional business software solutions across industries."
Ignify is comprised of approximately 500 employees worldwide with rich management consulting and technology solutions experience. In keeping with the company's goal of enabling companies to facilitate growth, productivity, and profitability, Ignify has the following independent software vendor (ISV) solutions: Loyalty Management, CRM for Banks, CRM for Insurance, Ignify eCommerce, Ignify Order Entry, Revenue Recognition, Average Daily Balance Reporting for Banks.
About Ignify
Ignify is Worldwide Microsoft Partner in 2015, 2014, 2013, 2012, 2011, and 2010, and offers eCommerce, ERP, CRM, Order Management and POS solutions based on the Microsoft Dynamics line of products. Ignify has been included as the fastest growing business for seven years in a row by Deloitte, Inc. Magazine and Entrepreneur Magazine. Ignify has team members worldwide including Los Angeles, Silicon Valley, Seattle, Nashville, Phoenix, Toronto, Manila, Singapore, Kuala Lumpur, Pune, Bangalore, Taipei, Bangkok and Tokyo. For more information, visit http://www.ignify.com or call 888 IGNIFY5. Follow Ignify on Twitter @ignifydax, @ignifyecommerce, and @ignifymscrm, or read its blog at blog.ignify.com.
Product or service names mentioned herein may be the trademarks of their respective owners.