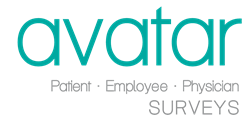 Our Employee Engagement/HCAHPS linkage report takes abstract data and allows organizations to make it actionable - Martin Wright, Vice President of Engagement Services
Lake Mary, FL (PRWEB) June 30, 2015
Avatar Solutions is now offering organizations a report that specifically details how their employee engagement scores are linked to HCAHPS survey outcomes. This report is intended to help clients uncover priorities for improvement.
To receive this report, organizations must conduct an employee engagement survey with Avatar. They do not have to conduct an HCAHPS survey with Avatar, as HCAHPS data is publically available. Avatar then analyzes scores on the engagement survey in relation to HCAHPS composites. Organizations will receive a summary report that details the specific areas where they should focus in order to have the most impact on the patient experience.
"Avatar is increasingly hearing from many clients that they want to better understand specifically how engagement impacts the patient experience. With this understanding comes the ability to actually take action. Our Employee Engagement/HCAHPS linkage report takes abstract data and allows organizations to make it actionable," says Martin Wright, Vice President of Engagement Services at Avatar Solutions. "The Linkage Report is just one more step in Avatar's mission to help organizations provide smarter care."
The Avatar Engagement Services team compiles and reviews the linkage report with client organizations. The team can also provide advisory services, workshops, and best practices for improving engagement, thus helping organizations develop strategic plans for improvement.
For more information about this report or Avatar's other offerings, contact info(at)avatarsolutions(dot)com or 1-312-236-7170.
###
About Avatar Solutions
Avatar Solutions is an innovative research, analytics, and performance improvement company with over 30 years of experience. Avatar provides CAHPS Surveys, Patient Satisfaction Surveys, Employee Surveys, and Physician Surveys. Avatar works with some of the most well-known organizations in the country. For more information, please visit http://www.avatarsolutions.com.
To follow Avatar on Twitter, go to http://twitter.com/AvatarPatExp. To join Avatar's group on LinkedIn, visit http://www.avatarsolutions.com/journey.html.