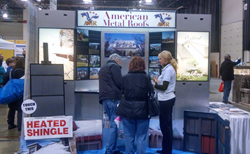 Our summer exhibits will continue to provide consumers with a look t the latest metal roofing products and styles -President American Metal Roofs
Flint, Michigan (PRWEB) July 01, 2015
American Metal Roofs has announced their 2015 summer event line up. This is an opportunity for consumers throughout Michigan to see samples of American Metal Roofs products and get answers directly from roofing experts. The following is a list of events where American Metal Roofs will be showcasing their products.
This year, show visitors will get to see and experience Heated Shingle in the booth. This revolutionary new snow melting and de-icing roofing system stops ice dams on residential and commercial roofs.
"This Spring we showcased Heated Shingle technology, which created great interest. Our summer exhibits will continue to provide consumers with a look at the latest metal roofing products and styles." – Frank Farmer - CEO, American Metal Roofs
Every person that stops by the AMR booth this Summer will have an opportunity to register for a chance to win a free metal roof.
July 4 Freedom Festival / Fenton, MI
July 8-11 Wyandotte Street Fair / Wyandotte, MI
July 15-18 Ann Arbor Art Fair / Ann Arbor, MI
July 24-26 Orchard Lake Art Show / West Bloomfield, MI
August 1-2 Waterfowl Festival / Bay City, MI
August 7-9 Milford Memories Summer Festival / Milford, MI
August 14-15 Woodward Dream Cruise
August 28-30 West Michigan Summer Horse Festival / Greenville, MI
August 29-30 Dragon On The Lake Festival / Lake Orion, MI
September 2 Boomers & Seniors Expo 2015 / Gaylord, MI
September 4-7 Arts, Beats, & Eats / Royal Oak, MI
September 19-20 Hunting & Fishing Show / Cadillac, MI
For more details on these events, please visit http://www.americanmetalroofs.com/events.aspx
About American Metal Roofs:
American Metal Roofs provides residential and commercial metal roofing products and services for the Michigan Lower Peninsula. American Metal Roofs specializes in installing metal roofing from the leading manufacturers of permanent metal roofing.