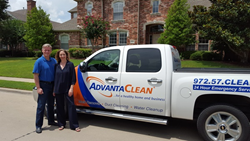 Dallas, Texas –
June 29, 2015 (PRWEB) July 01, 2015 -- As Texans reeled from yet another storm system over Memorial Day weekend in a spring weather cycle that has been drowning the state since April, two AdvantaClean franchisees teamed up to give residents and business owners some much-needed relief.
Former executives Bryan and Cheri Bennett opened their AdvantaClean business in Dallas, Texas back In February 2013. In Baton Rouge, La., Bradley Lynch and Steven Sanders, two longtime friends began operating their franchise in June 2014.
Then the floods came to Texas. Early damage estimates from the deadly Memorial Day weekend storms totaled more than $80 million to public property alone. Mark Hanna, Insurance Council of Texas spokesman for 13 years, told the Austin American-Statesman, "I haven't seen anything like it. All the major cities are reporting the most rain they've ever had in May. We're looking at a billion dollars of insured [private] losses in the month of April, and another billion of loss in May."
So Bradley and Steven called the Bennetts, and made the 6-hour drive to Dallas in their AdvantaClean rig to see if they could help.
We talked with Bryan Bennett about his experiences during the team-up with the Baton Rouge crew. Here's what he shared:
AC – Can you "guesstimate" the number of leads you received as a result of the storm?
Bryan – We received about 30. We shut down our online lead programs twice, for a day each time, to better control the volume coming in. The cool thing was that many of our competitors did the same thing for a more extended period, giving us a real edge. When Bradley and Steven came into town, we restarted leads at the lowest tier and had all we could handle for a few days.
AC – How many projects were completed between your team and the Baton Rouge Boys?
Bryan – From Saturday evening, May 30, when they arrived, until the following Wednesday morning, Bradley's team completed eight jobs. AdvantaClean DFW worked about 10 water damage clean-up jobs over the same period.
AC – Do you see potential for more leads to come—for water damage clean-up and mold work—because of the storms?
Bryan – The storms should provide potential for additional mold work throughout the summer. Between the water that penetrated into homes and will go undiscovered until later, and the do-it-yourselfers' incomplete drying efforts, there will be ample mold to deal with as the Texas heat goes to work.
AC – Was it beneficial to both businesses to have the Baton Rouge AdvantaClean Team mobilize to assist you with these flood damage projects?
Bryan – Absolutely! We helped get jobs for each other. When Bradley called us trying to decide whether he should make the drive, I asked him to give me 30 minutes to check our wait list. At the time, we had three or four people on it. I quickly solidified two jobs for him from our list—jobs we wouldn't have been able to service for days ourselves—and then turned on our online lead services for him. They took it from there.
Bradley returned the favor by spiking a job or two for us to finish—jobs we wouldn't have been able to respond to quickly enough to beat the competition. While they were here, Bradley also joined me on a commercial mold inspection. His insights were very helpful.
Plus, it was great having the additional advertising that came with having another AdvantaClean rig running around in my town during the emergency!
Lastly, I would think we'd get some good word-of-mouth advertising from teaming up. Two AdvantaClean franchises were able to respond to far more clients in need than we could have on our own. Together, we provided help to these folks days sooner than they would have gotten help from our competitors.
About AdvantaClean Systems, Inc.
Founded in 1994 as a contracting business handling cleanup and repairs in southern Florida, AdvantaClean, now headquartered in Huntersville, N.C., is now the leading national franchised provider of Light Environmental Services ™ in the country. The company currently ranks 85th on Entrepreneur Magazine's fastest-growing-franchises list, and is among Franchise Business Review's Top 50 in franchisee-satisfaction ratings. In 2013-14, USA Today and the International Franchise Association recognized AdvantaClean as a Top Franchise for Military Veterans. Today, more than 200 AdvantaClean franchised territories operate in 20 states, serving 100+ commercial and government clients, and thousands of residential customers nationwide.
Contact:
GinaCuza
Marketing Content Manager
AdvantaClean Systems Inc.
gina.cuza(AT)advantaclean.com
http://www.advantaclean.com/franchise/
Phone: 704.766.2437 ext.1124 | 877.800.2382 | Fax: 877.455.5546
#####