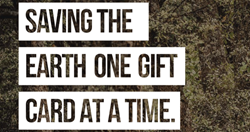 "The Forest Materials Committee is the only entity in the gift card space addressing the issue of sustainability in retail." -Martha Weaver, Gift Card Network Director
Vancouver, WA (PRWEB) July 22, 2015
Each year, as an industry, we manufacture over 35 billion gift cards globally. Most of these cards are made with a common plastic; polyvinyl chloride (PVC). PVC is a plastic that contains pollutants which are harmful to the environment and are slow to decompose. And, as there is no true recycle stream for these cards, they typically end up in landfills or get incinerated. As an alternative, there are many durable paper and wood substrates available in the marketplace which use less energy to manufacture, come from sustainable resources and are recyclable, compostable, and bio-degrade in a fraction of the amount of time when compared to plastic.
Over the past few years, paper and wood substrate manufacturers have spent large amounts of time and resources developing products specifically engineered for the gift card industry. The Gift Card Network Forest Materials Committee, made up of a diverse group of industry experts who are passionate about sustainability, has identified the top five reasons merchants say prevent them from making the switch from plastic to paper or wood and has set out to debunk these myths through an awareness campaign. This head on approach is meant to educate the gift card industry in an effort to move away from PVC to a greener solution.
The Five Myths of Forest Materials Gift Cards
Myth #1: Paper and Wood are not durable enough for gift cards.
On the contrary, there are billions of paper cards in the market today, with no known consumer complaints or product failure.
Myth #2: Paper and Wood are more expensive to procure/print.
When comparing forest materials to traditional PVC, the price per sheet is comparable. Price can fluctuate based on many factors: Printer and processor's pricing structure. Experience and production methods of the printer. Card run size.
Myth #3: No Merchants are using these products for gift cards.
That is not the case at all. In 2014, the Gift Card Network recorded over 20 major brands had a paper card in the market.
Myth #4: My Company doesn't care about the environment.
In 2014, 53% of the S&P 500 and 57% of the Fortune 500 Companies reported on their environmental, social and governance (ESG) impacts. For the first time, the non-reporters are in the minority.
Myth #5: Consumers don't care what substrate their cards are printed on.
Not true. Just look around your grocery store, office space and gym. Reusable shopping bags and water bottles are now becoming the norm. The US market share for recycled content, reusable and degradable packaging is $34 billion.
To view the campaign and our full responses to these myths, click here.
The Gift Card Network would like to thank the members of the Forest Materials Committee for their contributions, passion for educating the industry, and deep product insight. The Gift Card Network would also like to thank it's media partner, Powerhouse Brands, for developing the copy, design, and finished product.
The Gift Card Network Forest Materials Committee is made up of the following Industry Professionals:
Chairs:
John Fidalgo - ArjoWiggins
Jim Moriarty - PBM Graphics, an RR Donnelley Company
Jim O'Rourke - Monadnock Paper Mills
Contributors:
Elizabeth Corbett - Neenah Paper
Peo Akesson - Sustainable Cards
Lisa Berghaus - Monadnock Paper Mills
Matt Davies - Powerhouse Brands
Martha Weaver - The Gift Card Network
About the Gift Card Network
The Gift Card Network is the first gift card-specific marketing and collaboration platform. The network focuses on the identification of vital issues in the gift card industry and empowering its members to address these issues using connection, collaboration, and creativity. Members include companies that focus on the gift card industry. Find Everything Gift Card at thegiftcardnetwork.com.