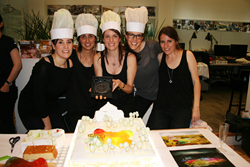 The Bake Off competition would make an exciting annual event, the design firms who participated had a fantastic time.
London (PRWEB) July 01, 2015
WATG were joined by Zaha Hadid Architects, Rogers Stirk Harbour and Partners, Squire + Partners, ARUP, HOK, BDP and Foster + Partners for the competition. The creativity and energy the respective design teams brought to constructing distinctive, edible recreations of iconic London buildings made for an exciting event. The atmosphere was buzzing with eager team members, intrigued spectators and excited children. John Goldwyn said 'Children were in abundance and extremely participatory in cake fabrication and design. The positive energy was incredible.'
Teams were provided with a selection of materials, including sponges, chocolate fingers and icing but were able to bring additional edible items. The teams used jelly, sticks of rock, Oreo biscuits, pre–prepared / sculpted sugar glass, edible silver spray, licorice and honeycomb! The most exciting additions were the tools used to create the masterpieces; we witnessed blowtorches and Dremel Drills!
WATG Business Development Coordinator, Ashley Fauguel came up with the idea to add an additional element of fun to WATG's open studio as part of the London Festival of Architecture, whilst allowing WATG to socialise with other local architecture firms. Ashley Fauguel said 'The teams turned up wearing 'team aprons' and matching colours, adding to the team spirit. All the teams collaborated brilliantly, sharing ingredients and space. You could see from the design sketches, ideas and ingredients brought along just how much preparation and rehearsal had gone into the day.'
The judging panel; Maxie Giertz, a cake development expert from Konditor & Cook, Gavin Hutchison, Chair of Cities of London and Westminster Society of Architects (CLAWSA), and Jennifer de Vere-Hopkins, an Associate from Jestico + Whiles took their roles seriously and based their decision on creativity, technical / execution, most realistic representation, team work and taste.
Rogers Stirk Harbour and Partners came in third place with their oreo and sugar glass interpretation of Lloyds of London. Zaha Hadid Architects took second place with their portrayal of Tower Bridge, including a jelly river and cake flotilla. In first place were Squire + Partners, their jelly Serpentine Pavilion lit from below with a light box wowed the judges. Jennifer de Vere-Hopkins said 'the winner has combined lots of different elements, we liked the execution, the idea behind it, the preparation and most of all the team recognized that there was an element of showmanship in creating a cake for this type of event'.
Nicole Hammond said 'This would make an exciting annual event, the design firms who have participated have had a fantastic time swapping designing buildings to be made with bricks and mortar into ones that can be created with Battenberg!'