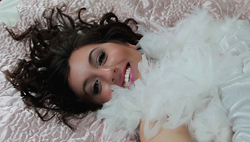 Silver Screen Burlesque will offer a stylish and nostalgic tribute to the glamour & glitz of an era gone by with burlesque interpretations of classic movies and stage plays by a talented cast of dancers," said Barry Aslinger, founder of the T-Town Tassels
Toledo, OH (PRWEB) July 01, 2015
The T-Town Tassels, Toledo's sassy, classy, burlesque troupe is rolling out the red carpet and bringing the starlets of the old Hollywood back to life in their fifth major performance, "Silver Screen Burlesque," July 18 at 8 p.m. at the Collingwood Arts Center. Discount tickets are available for $15 through the 24/7 live event concierges at Brown Paper Tickets at 1-800-838-3006, or online at http://www.brownpapertickets.com/event/1726006. Advance tickets can also be purchased in person at Costume Holiday House and at the Collingwood Arts Center box office. Regular-priced tickets will be available at the door on the night of the performance for $20.
"Silver Screen Burlesque will offer a stylish and nostalgic tribute to the glamour and glitz of an era gone by with burlesque interpretations of classic movies and stage plays by a talented cast of dancers," said Barry Aslinger, producer and founder of the T Town Tassels. "Our latest show is our best yet, guaranteed to delight, thrill, amuse and amaze!"
T-Town Tassels burlesque theater troupe was established in early 2014 to raise funds to save the 100-year-old Collingwood Art Center, a historic 100-year old building in the Old West End. The Tassels are the only burlesque troupe in North America to have a certified American Sign Language (ASL) interpreter, Emmah Artino, at every event. They have been asked to perform at fundraising events across Northwest Ohio, have performed at Toledo Pride, and regularly present mini-shows at The Moxie on Adams Street in Uptown.
The Tassels' cast includes Star Ridgfield, Phoenix Amore, Emma Darling, Anita Rochelle, Lily La Roux, Ophelia Saks, Abbey Lane, Kitty Hawkk and Ruby Jade, with special guest, Faye Noir gracing the stage. Faye Noir debuted her entrance to the burlesque world with The T Town Tassels a year ago, when she took the stage for the opening show. Since then, she has performed in a variety of shows as a Tassel, with numbers ranging from darkly macabre to sexy and musical. Faye has performed at a variety of venues outside of town, such as in Akron and Cleveland, and competed in the 2015 Michigan Burly Picks in Detroit. To close out the summer, Ms. Noir is a featured soloist at the Ohio Burlesque Festival in July in Cleveland.
Doors open at 7 p.m. and show time is 8 p.m. For more information regarding this show and The T-Town Tassels' ongoing fundraisers for the Collingwood Arts Center, go to their Facebook page at https://www.facebook.com/ttowntassels, or contact them directly via email atttowntassels(at)gmail(dot)com or by phone at (567) 218-9077.
###