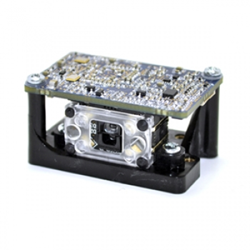 SDG Systems continues to provide small and mid-sized business with a way to easily integrate barcode scanning into their solutions.
Harmony, PA (PRWEB) July 01, 2015
SDG Systems, a leader in system and application software integration for Android on enterprise platforms, recently enhanced the EPX-Barcode (EPX-B) software in its Enterprise Platform eXtension Framework (EPX Framework™) software solution for Android. SDG has created EPX-B hardware drivers to support USB-based Code Reader™ scanners from Code Corporation. From a single SDK, using a Java application programming interface (API) for Android, EPX-B now supports Code, Symbol, Honeywell and Intermec hardware-decoded scan engines. EPX-B is also capable of using Android's integrated system camera to decode barcodes using libraries originally developed by the ZXing project.
"SDG Systems continues to ensure a broad selection of applications and hardware are supported with our EPX Framework," said Todd Blumer, President of SDG Systems. "In supporting the Poynt mobile terminal and cost-effective scanners from Code Corporation, we continue to provide small and mid-sized business with a way to easily integrate barcode scanning into their POS, medical, hospitality or other Android-based solutions."
SDG Systems has tested the Code Reader driver on the following OEM products from Code Corporation:
Code Reader CR1000
Code Reader CR8000 Scan Engine
Other Code Readers that support USB native two-way communication are expected to work unmodified with the driver, and may be tested upon request. The Code Reader driver is currently in public beta and may be purchased at a beta discount price of $0.99. Access to the beta is controlled through SDG's EPX-Barcode Scanner Beta Google+ Group.
Scanners may be connected to and controlled from the USB port of the Poynt payment terminal. Developers can integrate with the Poynt terminal using a licensed driver and free SDK from SDG Systems. For un-tethered convenience, support for Bluetooth-connected Code Scanners, like the CR2300, is planned. The driver is expected to support full bi-directional communication.
OEMs interested in integrating EPX-B into their Android hardware platforms should contact SDG Systems for licensing information. ISVs wanting to support EPX-B APIs may download the free Software Developer Kit (SDK) from SDG Systems' website. Support for additional barcode scanners is planned. USB-based OEM scanners that use scan engines from EPX-B-supported vendors (Code and Symbol) should work without modification when properly configured.
SDG Systems offers professional development services for Linux and Android systems. These include system integration, OS porting, application development and training. SDG also offers hardware platforms that may be used in creating vertical market solutions.
About SDG Systems
SDG Systems delivers innovative, customizable, Android and Linux solutions, specializing in rugged and mobile computers. SDG provides superior technical support, software customizations, and complete solutions. SDG is a leader in the implementation of Google Android solutions on rugged and embedded devices since 2009 and has been developing and supporting Linux system and application software since 2001.