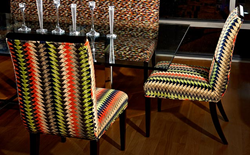 ...we've made something that expresses a new sentiment to the contract market.
Los Angeles, CA (PRWEB) June 30, 2015
Building on the strength of their previous collaborations Kirk Nix and Robert Allen Contract unveiled their third collection of hospitality fabrics. The duo's first collaboration, was released in 2012 at the annual HD Expo tradeshow, where it won the HD-IIDA Product Excellence award. Making its debut again at the Hospitality Design Expo (booth #4017), the Penthouse Collection puts the emphasis on fashion-forward design, with exceptional usability that reflects international influence and glamour.
Designer Kirk Nix comments, "With each collection, I strive to have the fabrics tell a story. The Penthouse Collection looks beyond Los Angeles to Africa and plays with this inspiration through the adventurous eye of the jazz age. By approaching these patterns and designs through this creative lens, we've made something that expresses a new sentiment to the contract market. The bold color palettes and eclectic motifs help tell this story, but through a hospitality-focused lens that is fresh and usable for designers."
The Penthouse Collection boasts a variety of rich constructions, such as a Sunbrella outdoor pattern in a boldly graphic design, an epingle pile fabric, drapery sheers, and two multi-color cut velvet designs. The fabrics themselves call to mind modern architecture and exotic locales, resulting in textiles with embroidery looks, painterly abstract patterns, metallic accents, and organic textures. Building on the African and jazz inspirations, the collection features bold colors, tribal motifs and a set of go-to neutrals which combine to create a look of exotic sophistication.
A few of the collections highlights are:
Cabana Bar, a Sunbrella Contract fabric, features a classic geometric design and soft hand for use indoors and out. 60,000 Double Rubs.
Cairo Bazaar's cut velvet composition adds a textural punch, with varied triangles and diamonds that extend in the same color palette to lend an ombre effect. 30,000 Double Rubs
Secret Passage, a drapery sheer with textural stripes.
The Penthouse full collection debuted at the Robert Allen booth in May and can now be found and purchased at Robert Allen showrooms at the Pacific Design Center in Los Angeles, CA., the Decoration and Design Building in NYC, NY., and the Decorative Center in Houston, TX.
About Kirk Nix
Kirk Nix is the founder of KNA Design, and has been the design visionary for luxury hospitality projects such as the Venetian, Raffles, the villas at Caesar's Palace, and most recently the Solaire in Manila. Additionally, Kirk has an extensive residential portfolio. For more information visit his website.
About A Design Partnership
Founded in 2009 and located in Westlake Village, California, A Design Partnership is a marketing and branding agency specializing in servicing the creative industries. To learn more about A Design Partnership, visit the company's website.