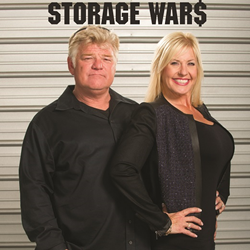 Stay tuned for the launch of our online auction listings and don't forget to pay the lady
San Bernardino, CA (PRWEB) June 29, 2015
They are America's number one auction team and the stars of the A&E's highest rated show. Everyone knows the fast-talking duo Dan and Laura Dotson of Storage Wars and now the fans have become the bidders through the web portal AmericanAutioneers.com.
Dan and Laura have achieved seventy-five years of combined experience in sales and auctioneering in the areas of: self-storage auctions, estates auctions, business liquidations, fund raisers, moving and storage, abandoned personal property, and they even provide appraisals for banks and the private sector all through their industry leading company American Auctioneers. The live auctions, estate sales, and business liquidations that have booked Dan and Laura have experienced greater success in their sales due to the couple's expertise and diligence in preparation and appropriate listing of the items.
Their website, AmericanAuctioneers.com, provides a wide variety of information including upcoming live auctions, notification sign ups, and they have just announced that they will be hosting their own online auctions this summer.
When asked for their comment on the growing success of American Auctioneers Dan and Laura had this to say: "We would like to thank all of our loyal customers and fans for making American Auctioneers what it is today. We have really enjoyed meeting and working with you and we're looking forward to many more years together. Stay tuned for the launch of our online auction listings and don't forget to pay the lady."
The bidding will be open to everyone and free to sign up. To learn more about Dan and Laura and for booking and auction schedules visit http://www.AmericanAuctioneers.com
https://twitter.com/AuctionGuyDan
https://twitter.com/PayTheLadyLaura