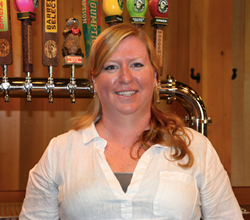 Middlebury, VT (PRWEB) June 30, 2015
Bridget Blacklock, Marketing Director of Vermont Hard Cider Company, handcrafters of Woodchuck Hard Cider, announces the following promotions:
Cheray MacFarland has been promoted to Marketing Operations Manager after serving as Creative Manager since February 2013. Cheray steers the creative side of the Marketing Team, while providing leadership and organization on many marketing programs, and works closely with the Director on long-term projects. She has been with the Vermont Hard Cider team for over two and a half years, with over six years of experience in the craft beverage industry, and over 10 years in creative design. Cheray earned a B.F.A. at Endicott College, and now resides in North Ferrisburgh, VT.
Caitlin Stroupe has been promoted to Communications Manager after serving as Consumer Marketing Specialist since September 2013. Caitlin crafts all internal and external communication while maintaining the strategy and delivery of Vermont Hard Cider's story. She has been with the Vermont Hard Cider team for just under two years, with over six years of experience in marketing and sales. Caitlin earned a B.A. at University of Vermont and resides in Hinesburg, VT.
About Woodchuck® Hard Cider
Woodchuck Hard Cider introduced the U.S. to the craft cider category 24 years ago after it was first handcrafted in a 2-car garage in Proctorsville, Vermont. Staying true to its roots, Woodchuck is dedicated exclusively to cidermaking. In other words, we "Give a 'Chuck" about authenticity and handcrafting the best cider possible. Innovation is at the core of everything Woodchuck's cidermakers do, which is why they continuously strive to create unique new ciders using the finest ingredients. That attention to detail has paid off and Woodchuck Hard Cider has recently received awards at the International Cider Awards, World Expo of Beer, The Great Lakes International Cider and Perry Competition and the New York International Beer Competition. For more information about Woodchuck Hard Cider visit http://www.woodchuck.com, or download the new mobile app, available for iOS and Android users.