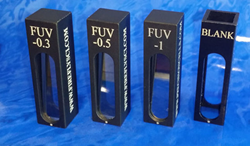 Brooklyn, NY (PRWEB) July 06, 2015
For many years, metal-on-quartz filters were the industry standard for the calibration of UV spectrophotometers. If a user had a high-end machine such as a Varian Cary 4000-7000, a Perkin Elmer 800-1100 or a Shimadzu 3600-3700, these filters would work like a charm. So widespread was this design that even NIST used them for their SRM-2031 series going back for many years. Unfortunately, these standards remained unusable for the majority of spectrophotometer users who had most other major brands such as Beckman Coulter, JASCO, Thermo, GE, Hitachi and many more. Furthermore, anyone who had a workhorse such as the Shimadzu UV-1800 was left out in the cold.
Having one filter to validate photometric accuracy in the UV and VIS range is an excellent feature, but what good is it if it doesn't work on 90% of the machines in circulation? This is especially distressing for customers who drop nearly $1200-$1500 on one of these filters from other leading companies only to find out that it won't work in their machine. Once they have the filter, returning it can be a headache, as often these companies will tell the customer that it is their machine that is at fault and not the standard.
FireflySci has fielded numerous complaints to this effect from frustrated customers unable to return their standards they purchased for the calibration of UV spectrophotometers. FireflySci has seen this error and wanted to deliver on a set of UV/VIS photometric accuracy that would work with any machine on the market. Enter the FUV-Series, which works on 100% of all machines, regardless of optics. To sweeten things, FireflySci offers a no-hassle return policy, which enables customers to return their filters and get their money back right away if something doesn't work out. At a modest $899, the FUV-Series photometric accuracy standards covers the range of 200-700nm, offering far more value than other companies at a much lower price. The FUV-series works on 100% of UV/VIS spectrophotometers, will stay permanently calibrated thanks to FireflySci's NDL technology, and can be used to check any point for photometric accuracy in this range.
FireflySci's goal is to assist in the calibration of UV spectrophotometers for all users, regardless of lab size and budget. Rather than price gouging at $1200/filter and up, FireflySci believes that value and price ought not to be mutually exclusive. Validating a machine so that you can pass muster with your quality control department should be a quick, easy and painless process and not a time-consuming and cumbersome one. The FUV-series filters, unlike their metal-on-quartz cousins, will not need recalibration every two years and can be used in perpetuity provided that they are handled correctly. With a nearly 10-year study with a prestigious Metrology Laboratory, FUV filters have been shown to have an unprecedented shelf-life. Material aging is a rampant problem with solid-state photometric accuray filters, and FireflySci has sidestepped this problem with NDL.
To learn more about NDL technology, FireflySci's product guarantees, or its unparalleled quality-for-value, contact info(at)fireflysci(dot)com.