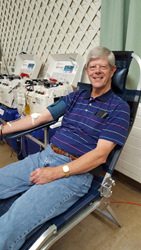 I wish I could remember when I actually started giving. Sometime in the '70s, I guess.
San Antonio, Texas (PRWEB) June 30, 2015
When Archie Klein walked into a blood drive the American Legion Hall in Fredericksburg, Texas, earlier this month, he thought he was on the verge of something special.
As Klein signed in, he asked Rita Holmberg Woodman, the South Texas Blood & Tissue Center (STBTC) drive coordinator, to check his donation records. Turns out, his visit was special – it was visit No. 200 for the native of the Texas Hill Country, putting him at a lifetime donation of 25 gallons of whole blood.
"I wish I could remember when I actually started giving," said Klein, who is 68. "Sometime in the '70s, I guess."
Klein, who retired earlier this year after working 45 years for Central Texas Electric, said he started giving simply because it was "a good thing to do." Most of his donations have come via the community drives in Fredericksburg, where he has lived his entire life.
In some ways, Klein is the typical STBTC donor. Like 45 percent of the 119,839 donors in 2014, he is Caucasian. (Hispanics were the second-largest ethnic group, at 38.6 percent.) By a slight margin, men give more often than women – 50.3 percent of the donors in 2014 were male.
And while donors age 60-69 made up just 10 percent of the total in 2014, those ages 50-69 made up 28.9 percent of the total donors.
Young people – ages 16-29 – made up the largest percentage of donors, with a total of 43,317 in 2014, 36.2 percent of all donors.
Nationally, the average age for blood donors is 35, and most blood donors are between the ages of 30 and 50, according to the book "Practical Transfusion Medicine" by Jeffery McCullough. The book also reports that men are more likely to be long-term donors than women, and that 12 percent of multi-gallon donors are older than 65, like Klein.
No national numbers exist, but one blood bank that serves a 70-county region in Tennessee, Kentucky and Illinois reported in 2013 that it had its 120th 25-gallon-plus donor, out of a database of 200,000 donors.
And while Klein is older than the typical STBTC donor, he's not even the oldest donor in his hometown.
"I'm thankful to God that I was able to give all these years," he said. "I want to keep on donating as long as my friend, William Wiemers. He's 86 years old and going strong."
###
About the South Texas Blood & Tissue Center: The South Texas Blood & Tissue Center (STBTC) is a nonprofit community blood center providing blood, plasma, platelets and other blood components to 67 hospitals in 43 South Texas counties. STBTC has seven donor rooms in South Texas and conducts multiple mobile blood drives each week.
About BioBridge Global: BioBridge Global (BBG) is a San Antonio, Texas-based nonprofit corporation that offers diverse services through its subsidiaries – the South Texas Blood & Tissue Center, QualTex Laboratories, GenCure and the Blood & Tissue Center Foundation. BBG provides products and services in blood resource management, cellular therapy, donated umbilical cord blood and human tissue as well as testing of blood, plasma and tissue products for clients in the United States and worldwide. BBG is rooted in the South Texas Blood & Tissue Center, which has a proud history of serving the South Texas region and beyond for more than 40 years. BBG is committed to supporting groundbreaking research, addressing unmet clinical needs and enabling the development and commercialization of novel biotechnology products. Visit us at http://www.biobridgeglobal.org.