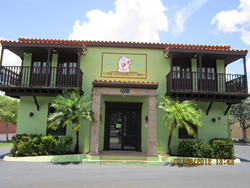 Jacksonville, FL. (PRWEB) June 30, 2015
Pet Paradise, an upscale pet boarding and day camp resort, has recently acquired The Wigglebutt Inn®, located in Naples, FL., on June 26.
Pet Paradise's 23rd resort will feature similar accommodations and amenities as the other Pet Paradise locations and will be operated under the same high level standards that the company has established. The company's mission is to provide a safe, clean and fun environment for its four-legged guests.
"While we had a handful of companies interested in buying us, we chose Pet Paradise because of their values, similar philosophy and strong commitment to quality pet care. They are an exceptional company who is dedicated to its employees and gives back to the community. We could not be happier knowing that Pet Paradise will uphold WBI's high standards, ideals and our vision. We have every confidence that Pet Paradise will provide wonderful care for your pets," said George Paul, owner of The Wigglebutt Inn®.
Pet Paradise Naples is a 10,000 sq. ft. resort that features three large indoor play areas, two outdoor play areas with artificial turf, spacious dog suites and five presidential suites with televisions. Other upgrades include additional playtimes and exercise, interactive games, storytime, a daily communication package, a GoPro video experience, doggie ice cream and go home baths. Pet Paradise will offer cat boarding. The kitty condos are away from the dog area and each guest has their own multi-level condo in a peaceful and private environment.
In addition to pet boarding and day camp services, Pet Paradise is very active in the local communities throughout the U.S. by partnering with animal rescue groups for their annual pet food drive and Wacky Wednesdays, as well as sponsoring and supporting events. Pet Paradise is proud to go beyond a pet boarding company and is committed to expanding their community support in the greater Naples area.
Pet Paradise Naples will be open seven days a week with convenient pickup and drop off hours, including early weekend hours (by appointment only). This new location will also include an on-site live-in caretaker.
Pet Paradise was founded in 2002 and currently operates 23 locations across seven states. Pet Paradise is committed to providing a safe, clean and fun environment for your pet. Pet Paradise Naples is located at: 2021 Pine Ridge Road, Naples, FL 34109. For more information, please visit http://www.petparadise.com.
About Pet Paradise: Headquartered in Jacksonville, Fla., with more than 550 employees, Pet Paradise was formed in 2002 and currently has 23 facilities in operation of which 11 are located throughout Florida; three are in Houston, three in the north Dallas area, two in North Carolina, and one each in New Orleans, Atlanta, Albuquerque and Phoenix. At Pet Paradise our mission is to create a safe, clean and fun environment for our four-legged guests. The Pet Paradise facilities include spacious dog and cat boarding suites as well as day camp and grooming services. For more information about each resort, visit http://www.petparadise.com or visit our social media sites: Facebook, Instagram, Twitter, Vimeo and Pinterest.