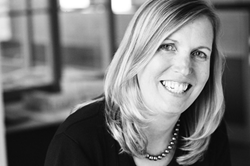 Trenton, NJ (PRWEB) June 30, 2015
Spiezle Architectural Group, Inc., a Trenton, NJ-based architectural firm that serves clients throughout the Northeast, is celebrating its 61st year in business – a year of innovation – with the addition of two key members to its management team.
Laura A. Prickitt, IIDA, NCIDQ, has joined the firm as a principal responsible for leading Spiezle's Southeastern Pennsylvania office located in Media. She is focusing on expanding the firm's Philadelphia presence as well as its interior design offerings. Prickitt, who most recently ran her own practice, formerly served as a director at Jacobs (formerly KlingStubbins) and a principal at Blackney Hayes Architects.
Frank Sabouri, AIA, a seasoned design architect, brings an extensive portfolio of award-winning and international work to the firm. He is responsible for bringing an enhanced level of design and scale to projects. Frank managed his own practice and served in various design capacities with a number of firms including Louis I. Kahn, CUH2A, PS&S and Vitetta Group.
"Adding these two veteran design professionals to our team is part of our commitment to innovation," notes Bob Kellner, CEO of the firm, which was named the New Jersey American Institute of Architects' Firm the Year in 2012. "For 61 years, we have been known for our quality service to clients and the production of good, solid buildings that endure over time. Now, we are adding a strategic focus on design, continued growth and diversification to that legacy."
With its heritage steeped in schools and higher education, Spiezle also serves the senior living, corporate/commercial, government, hospitality, recreational and religious markets.
"We look forward to the contributions Laura, Frank and the rest of our team make as we continue to evolve and take the firm to the next level," Kellner concludes.
About Spiezle Architectural Group
Spiezle Architectural Group is an award-winning, full-service architectural and planning firm. Founded in 1954, the firm is known for innovative design, financially responsible solutions and personalized service. Spiezle serves academic, senior living, corporate/commercial, government, hospitality, recreational and religious clients. Learn more at http://www.spiezle.com.
###