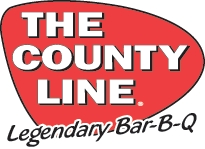 Austin, TX (PRWEB) June 30, 2015
The County Line is 40 years old this year, and to understand its success, one only has to look to its origins. The County Line was formed—and still is owned—by Texans who love Austin; love its heritage and historical buildings; love BBQ; and are committed to running a top-rate BBQ restaurant based on four principles:

First: offer the highest quality smoked barbecue – ribs, brisket, sausage and chicken – with traditional sides of cole slaw, potato salad and beans.
Second: provide these BBQ specialties in generous portions at reasonable prices.
Next: employ college-age students to offer friendly table service with linens and bar service.
Finally: feature an authentic location that celebrates the heritage of Texas.
In June, 1975 they put all these principles into effect at The County Line's original location in an old speakeasy called Cedar Crest Lodge on Bee Cave Road, now known as the County Line on the Hill.
Fast forward 40 years and the principles (and the principals) are the same. They still offer a casual relaxing atmosphere with excellent service at the same original location on Bee Cave Road with its 20-mile scenic view of the Texas Hill Country, and a second restaurant in another historic location on Lake Austin on FM 2222, known as County Line on the Lake. It also owns and operates four additional BBQ restaurants: two in San Antonio, one in Albuquerque, and one in El Paso called The State Line. It also owns Barriba Cantina on the San Antonio Riverwalk, and a liquor store next to The State Line called Side Door Liquor Store.
Who are the partners behind County Line? All the partners began their "tenure" with County Line in 1975: Bruce Walcutt, Ed Norton, Don "Skeeter" Miller and Randy Goss. Sadly, Walcutt and Goss are deceased, but Miller and Norton are still running the business from its corporate headquarters in Austin.
"Some barbecue restaurants pride themselves in replicating a grungy atmosphere with dirt on the floor and food served on wax paper," says Miller, owner and President who also develops new product lines and menu changes. "What we do at County Line is provide top quality BBQ in a cozy setting—somewhere you can sit and relax and have a great dining experience. That means everything to us."
The BBQ experience that the founding partners originated in the mid-70s is much the same today (with nearly 40 years of perfecting). Just as it did in 1975, the County Line menu still showcases traditional barbecue fare and Texas comfort foods, prepared with its original barbecue sauces, spices and marinades, served in generous portions:

beef brisket slow smoked over natural green oak for 18-24 hours, then hand-trimmed
baby-back pork ribs basted with County Line's sauce during the slow cooking process
large beef ribs slow smoked over natural green oak
sausage made in the Texas Hill Country by German descendants with exclusive County Line recipe, and then smoked twice over natural hardwoods
smoked chicken or smoked, peppered turkey breast in its purest form, with no additives
smoked prime rib
"traditional" BBQ sides of cole slaw, potato salad, baked potatoes and beans, as well as appetizers, sandwiches, garlic mashed red skin potatoes and signature salads
homemade bread and desserts, including homemade ice cream, cheesecake, Kahlua chocolate cobblers, fruit cobblers in season, and bread pudding with Jack Daniel's whiskey sauce
full bar service, with the recent addition of craft beers to longtime favorites such as Margaritas, Lone Star and Shiner Bock, with Happy Hours on weekdays
complete children's menu, with all plates including an entrée, fries, pickles, drink and homemade ice cream
on the Hill, diners also enjoy items from the grill including chicken, hamburgers, veggie burgers, rib eye, vegetarian kabobs, tenderloin, New York strip and salmon
Gluten-free menus available at both locations
And the County Line restaurants in Austin don't have to try and replicate a historic look—they are historic. Before the County Line moved into the Hill location, that property served as a speakeasy and an illegal gambling hall. Its 20-mile view is still unencumbered by the surrounding population. The Lake restaurant was built in 1946 as the lodge for a seven-acre facility that included cabins, store, swimming pool, canoe rentals, and boat docks. Guests still arrive at the Lake location by boat, and feeding the turtles continues to be a favorite activity for guests. The interior ambience at each restaurant reflects the history surrounding each property, with an array of Central Texas trivia and trappings lining the walls, including a talking deer and moose at the Hill location.
The County Line co-owners embrace the Texas tradition of giving. Over the years, the County Line in Austin has been actively involved with the Capitol Area Council Boy Scouts of America, Big Brothers-Big Sisters, Project Safe Place, Paramount Theater, Ballet Austin, Candlelighters Childhood Cancer Foundation, and many others. Recently the owners took 500 links of sausage, beans, tortillas and BBQ sauce to the volunteers at Ground Zero for the Wimberley flood recovery efforts. This is in addition to the countless donations to silent auctions and golf tournaments, as well as hundreds of pounds of food donated annually to the Keep Austin Fed and Second Serving programs. The partners each dedicate many hours on their own to non-profits, as well, including Skeeter's four-year tenure as president of the Austin Restaurant Association and a Board member of the Texas Restaurant Association and the TRA Education Foundation.
County Line certainly has a positive impact on the economic development, as well as the culinary development, of Texas. The company began in 1975 with an initial investment of $65,000 and has grown to company with average sales per restaurant of $3 million. It employs more than 1,200 people annually in the eight stores and pumps many dollars back into the local economy. Company-wide, they purchased 5 million pounds of beef alone per year. Customers of the County Line restaurants in Austin enjoy one million beef and pork ribs annually…and that doesn't include the other BBQ favorites, including more than 400,000 lbs. of brisket a year. Annually, the County Line battalion of Texas-bred BBQ-ers also prepare about 14,000 gallons of their "get it all over 'ya" barbecue sauce, 50,000 gallons of iced tea and 40,000 loaves of our famous homemade bread (equates to about 1/4 million lbs. of flours per year).
County Line's legendary smoked BBQ, top of the line meats and other products are also available all over the country, via its "Air Ribs" shipping service. Customers can order a box of County Line's custom blend sausage, 18-hour smoked brisket, baby back pork ribs, meaty beef ribs, boneless peppered turkey breast -- all smoked using County Line's nearly 40-year process. Other gift options include an Air Ribs gift certificate; County Line's Bar-B-Q sauce in two flavors (original or wild pork); and the "Talkin' Cowboy" CD—a Texan language lesson that gives the proper English pronunciation, followed by the Texas version. More info on Air Ribs can be found at http://www.airribs.com or by calling 1-800-AIR RIBS.
The County Line on the Hill— the oldest restaurant in the Westbank area— is at 6500 Bee Cave Road, just outside Capital of Texas Highway 360. It is open for lunch, dinner and bar service seven days a week with continuous service indoors or outdoors, beginning at 11:30 a.m. every day. The restaurant closes at 9 p.m. Sundays through Thursdays, and at 9:30 p.m. on Fridays and Saturdays. A large room that accommodates 100 seated guests can be split into two private rooms—each with a private deck for outdoor mingling—for private parties. More information on the County Line on the Hill can be found on the company's website at http://www.countyline.com/CountyLineHill.html or by calling (512) 327-1742.
[The County Line on the Lake is at 5204 Bull Creek Road (FM 2222), just inside Capital of Texas Highway 360. Barbeque fans can enjoy lunch, dinner and bar service seven days a week with indoor and outdoor dining. Continuous dining begins at 11:30 a.m. every day except Mondays and Fridays opening at 11 a.m. This location closes at 10 p.m. Tuesdays through Saturdays, and at 9 p.m. on Sundays and Mondays. Several party rooms can be reserved for private parties and weddings; this location won the Best of Austin Wedding Style Award in 2015. More information on the County Line on the Lake can be found on the company's website at http://www.countyline.com/CountyLineLake.html or by calling (512) 346-3664.