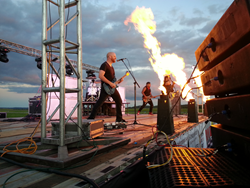 If you thought last year was awesome...wait, because this year is going to blow your mind!
Wellsville, NY (PRWEB) June 29, 2015
National touring rock group and GMA Dove Award Nominee We As Human, along with Grammy-nominated singer Lacey Sturm (formerly of Flyleaf), will be headlining year two of Rock the Tarmac, a free rock music festival held on Saturday, July 11, at the Wellsville Municipal Airport in Wellsville, N.Y. Event gates will open at 4:30 p.m., and the show begins at 6 p.m. For complete event details, please visit http://www.RockTheTarmac.com.
Along with Youth for Christ, other major sponsors for the event are Otis Eastern Service Inc. and Houghton College as well as many local area businesses and churches.
Opening bands will be two-time Rock Album of the Year winners Manic Drive along with Scarlet White, who has had three songs from their most recent album reach the top ten on the charts with one hitting number one.
"It feels amazing to be in a position to host a concert event like Rock the Tarmac with artists like the ones we have in our line-up!" said Keith Chase, festival coordinator and director of the Southern Tier Youth for Christ. "They [the bands] are either at the top of their careers or on the threshold of HUGE success…. These bands are in high demand, and they chose to be here in Allegany County!"
Last year, the first Rock the Tarmac event kicked off with great success, garnering between 750 and 1,000 people. In addition, there were multiple vendors on site including food, merchandise, and sponsors.
With the headlining bands for this year's event, there is anticipation for attendance of 3,000 to 4,000 people—so many, in fact, that the airport will be completely closed during the event to ensure maximum safety of all the spectators.
Case further commented, "If you thought last year was awesome...wait, because this year is going to blow your mind!"
The performance will be on the tarmac of the Wellsville Municipal Airport located at 2600 Tarantine Road, Wellsville, N.Y. There will also be an array of food and merchandise vendors, and the festival will go on whether rain or shine.
Headliners, We As Human, were discovered by Skillet front-man, John Cooper, who has also had much influence on their career and albums. In 2013, the band was nominated for the GMA Dove Award: Rock Song of the Year.
The band has had their self-titled album chart in the top ten of two Billboard charts, and, in 2014, their song "Take Bullets Away" hit number one.
We as Human has played with such notable rock bands as Skillet, Korn, Alterbridge, Papa Roach and Shinedown. They are currently on the Atlantic Records label.
"We as Human have everything they need to explode," said Indie Vision Music.
Also headlining is Lacy Sturm, formerly the lead singer of the platinum-selling rock group Flyleaf. Sturm was also twice nominated at the Grammy's for Best Gospel Song and Best Gospel Performance for her work with Third Day's album "Born Again."