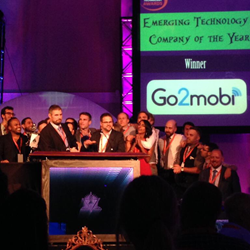 I'm excited to show the world that when it comes to delivering mobile audiences to our clients, Go2mobi has already arrived.
Victoria, BC (PRWEB) June 30, 2015
Mobile Advertising Platform, Go2mobi, won its third Viatec award in three years, nabbing Emerging Technology Company of the Year honors this past Friday in front of 750 members of Canada's leading West Coast tech community.
The award comes on the heels of Go2mobi's previous Viatec Awards, Startup of the Year 2013 and Product of the Year 2014, and reflects Go2mobi's explosive growth and rapid expansion into the world of brand and agency marketing.
Go2mobi founder and president, Tom Desaulniers comments, "The quality of emergence is something that Go2mobi has embodied since its founding in 2011. Our team, our revenue and our technology have grown exponentially, year over year and in 2015 Go2mobi has truly emerged as a globally relevant, industry leading company in the digital advertising space." Desaulniers adds, "It's great to be recognized locally for our global success."
2015 has seen Go2mobi move into the world of brand and agency marketing, a move that required a refocusing of the company's core technology towards data management and audience targeting. Desaulniers says "Agencies and brands want specific audiences, delivered at scale, engaged in timely and relevant ways. Our mobile marketing technology is perfectly geared to deliver our clients' messages to the right people at the right time and place to have the most impact possible."
The Viatec Awards highlight a growing West Coast high-tech industry that boasts over 900 companies which earn more than $3B in annual revenue, which is up 18% from last year's revenue figures. Half of this year's Viatec Awards recipients are comprised of tech companies or executives in the digital marketing space--a fact which underscores the West Coast of Canada's status as a world class hotbed of digital marketing services and technology.
Go2mobi boasts a client roster that includes some of the biggest brand names in the financial, automotive, retail, mobile app, travel, fashion, political and entertainment verticals. The Victoria, BC company's plans for expansion in the coming years will see it continue to grow in size and develop even more audience targeting and data contextualization technology. Adds Desaulniers, "It's nice to be considered an emerging company, but I'm excited to show the world that when it comes to delivering mobile audiences to our clients, Go2mobi has already arrived."
To learn more about Go2mobi's Audience Targeting Platform, visit Go2mobi.com