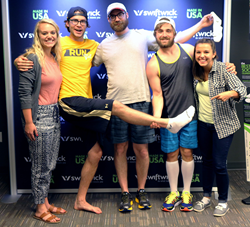 Knowing that we will be wearing these socks every day of our walk gives me so much more confidence and takes away worries about blisters and discomfort.
Brentwood, Tenn. (PRWEB) June 30, 2015
Swiftwick, a leading athletic performance sock company, is excited to announce their product sponsorship of The Walking Guys (Benjamin Butler, Christopher Kessenich, Will Stevens and Riley Moore) as they play 50 shows across 15 states while walking on foot. These four musicians will begin in Portland, Maine, on July 8th and finish their tour on Nov. 9th in Nashville, Tenn.
"At Swiftwick, we pride ourselves in helping people do what moves them and reach their goals," said Elliott Cunningham, vice president of marketing. "We are thrilled to be a part of every step of The Walking Guys' journey."
The Walking Guys began when Benjamin Butler (the man behind this adventure) posted on a Facebook page for Nashville musicians, "Looking for other musicians/videographers to go on an adventurous tour with." This out of the ordinary post led Kessenich to reach out and after 15 seconds of thought, agree to join the trek. With one member set, Butler decided to contact lead guitarist Stevens, whom he had briefly met while hiking the Appalachian Trail. Stevens's wife was the one who ultimately convinced him to quit his job and join the group. Lastly, Moore, who has years of touring experience, agreed to add this journey to his bucket list. After years of hoping and dreaming, Butler's dream began to come to fruition.
These four musicians plan to walk 15 miles every day while relying on the hospitality of strangers, acquaintances and their camping gear to provide lodging. As they travel from show to show, The Walking Guys will be collaborating with local artists along the way to create an album and documentary to share their adventures with fans.
"I have always heard great things about Swiftwick and immediately noticed a difference in my my feet while exercising," said Riley Moore. "Knowing that we will be wearing these socks every day of our walk gives me so much more confidence and takes away worries about blisters and discomfort. Now, we can focus on our music as well as other aspects of our tour."
During their time on the road, The Walking Guys will be equipped with various lines from Swiftwick including the ASPIRE, PURSUIT, VISION and VIBE. All of their production equipment for the tour, album and documentary was funded through a Kickstarter Campaign, which raised over $15,000 and substantially exceeded their original goal of $5,000.
As The Walking Guys embark on their epic adventure, they will embrace the mantra "Live Simple. Spread Music."
To find a show near you or more information on The Walking Guys: http://www.thewalkingguys.com.
For more information on Swiftwick: http://www.swiftwick.com.
About Swiftwick
Since 2008, Swiftwick has aimed to fuel any adventure with the best socks designed by athletes for athletes. By fusing personal experience with the most advanced fibers, Swiftwick's superior socks will propel performance, so athletes can continue to "do what moves them." Swiftwick is headquartered in Brentwood, Tenn.
Learn more at http://www.swiftwick.com.
Media Contacts:
Katy Holmes (Swiftwick) 615.983.6387 or media(at)swiftwick(dot)com
Krista Mettler (Skye Media) krista.mettler(at)skyemediaonline(dot)com