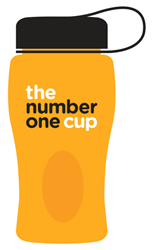 May this spare you unneccessary stops and stress wherever your travels may take you.
Short Hills, NJ (PRWEB) July 02, 2015
Just in time for summer road trips, The Number One Cup is now available to help solve those "gotta go now" emergencies. The brainchild of single mother of 3 boys, Emily Baldwin, this simple receptacle is a must for every parent of boys heading out in the car.
"The saying 'necessity is the mother of invention' sure strikes home with me," states Baldwin. "As a parent, you have to learn to improvise when you find yourself in unavoidable situations, such as being stuck in bumper-to-bumper traffic with a boy who cannot wait one more second to relieve himself. I know it is not everyone's favorite topic of conversation, but as a mother with 3 sons, going 'number one' is simply a reality."
Convenience and ease of use were the primary goals when designing The Number One Cup. It's simple to use and can be mastered quite easily by boys as young as age 3 (though practice makes perfect, as with any new skill).
On long road trips it can be used several times and then emptied and rinsed to be ready for the next use. The cup is made from PETE (Polyethylene terephthalate), which is considered a safe plastic by numerous health authorities, is tapered to fit into most auto cup holders, and features a tethered lid and finger grips sized for smaller fingers (to avoid slipping). It also comes with 3 sanitary hand wipes for on-the-go hygiene.
Baldwin's boys (ages 9, 6 and 4) not only "road tested" various versions of The Number One Cup, but also lent a hand in designing the bottle's logo. "When I explained to my nine-year-old that I wanted to make it clear that this bottle was not for drinking, he came up with the skull and crossbones idea, and we turned it into a kid-friendly version," explains Baldwin.
The cup is currently available in orange and black, is made in America and is BPA-free. It retails for $14.95. Additional color combinations and a version for girls are currently in development.
To order The Number One Cup for the boys (or even the men) in your life, log on to http://www.numberonecup.com.
To receive a sample, schedule an interview with Emily Baldwin, or obtain further information and high-resolution images, please contact Emily(at)TheNumberOneCup(dot)com.