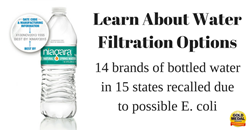 ...it's crucial for residents to have purification solutions during this water bottle recall.
EAST BRUNSWICK, N.J. (PRWEB) June 30, 2015
Gold Medal Service, an award-winning heating, cooling, plumbing, waterproofing, and electrical home service company, responds to the U.S. and Canada voluntary water bottle recall announced Monday by providing water contamination preventative tips.
"New Jersey convenience stores recalled 14 brands of water bottles because of potential E.Coli contamination," said Mike Agugliaro, co-owner of Gold Medal Service. "Environmental pollutants and bacteria may induce health risks if not properly addressed. Hydration is essential so it's crucial for residents to have purification solutions during this water bottle recall."
According to the U.S. Department of Health and Human Services, an E.coli infection may result in severe diarrhea, abdominal pain and vomiting. Conditioning and filtration methods reduce the risk of ingesting contaminated water.
Some recommendations for water purification are:

Boil water before consumption to eliminate harmful bacteria
Avoid ingesting untreated water and swimming in contaminated water
Install an in-home water softener system or purification systems
In-home water filtration systems better ensure high-quality water as it removes chlorine, heavy metals, acid water and other contaminants. Kinetico water systems, developed by engineers in 1970, offer a non-electric, fully automatic way to filter and treat water. These systems capitalize on the force of moving water rather than relying on electricity, providing homeowners with an energy efficient water filtration solution. New Jersey plumbing and HVAC service company, Gold Medal Service, advocates the use of Kinetico because of the system's efficiency and assurance to remove iron, hydrogen sulfide, acid water and other contaminants from water sources.
"Many people may assume that bottled water is the safest option but that's not always the case," said Agugliaro. "A home water filtration system is often held up to stricter guidelines than bottled water companies. Proper prevention certifies cleaner, safer water for your family."
For more information on water conditioning and filtration methods, visit goldmedalservice.com.
About Gold Medal Service
Gold Medal Service, rated A+ by the Better Business Bureau, was founded in New Jersey in 1994 with just two employees. Their vision was to provide homeowners with a reliable and trustworthy home service company customers could count on to fix just about anything that could go wrong in a home. Since then, Gold Medal has grown to include more than 150 employees and technicians solving plumbing, heating, cooling, electric, drain, waterproofing, and sewer issues for homeowners across the state of New Jersey. Gold Medal Service is an Angie's List "Super Service Award" recipient. For more information, call 800-576-GOLD or visit http://www.goldmedalservice.com.
###
For additional information, contact:
Heather Ripley
Ripley PR
865-977-1973
hripley (at) ripleypr (dot) com