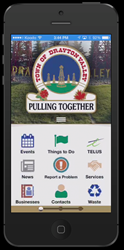 With this update, we are trying to improve response times for services offered throughout Drayton Valley - Mayor Glenn McLean
Drayton Valley, Alberta (PRWEB) June 30, 2015
The Town of Drayton Valley updated their mobile application to allow citizens and staff to report civic issues including graffiti, illegal dumping and waste collection as they encounter them from their mobile devices. The problem reporting module will allow the town to capture these types of requests electronically, making service to citizens more efficient and cost effective
The problem reporting module allows citizens to follow a step-by-step process for identifying and reporting civic issues, including adding an optional photo and the address of the issue as provided by the phone's GPS capabilities. Citizens can follow up on their problem report based on the confirmation number provided at the conclusion of their form submission.
"With the release of this problem reporting module we hope to hear from our citizens about civic issues as soon as they are identified," said Mayor Glenn McLean. "With this update, we are trying to improve response times for services offered throughout Drayton Valley."
Purple Forge, is the service provider behind the Drayton Valley mobile application, and is the leading provider of mobile apps to government's at all levels in Canada. Supporting public facing government services of all types, including 511/Road Conditions, 311/Problem Reporting, Elections, Parks and Recreation and Pet Adoption, Purple Forge continues to lead the way in the delivery of both single and multi-departmental mobile applications for governments.
"This new module will speed citizen access to problem reporting, and will also help the town to manage their costs by moving problem reporting from a live agent to a simplified input screen," stated John Craig, VP Sales and Marketing of Purple Forge. "It's not just cities like Edmonton and Calgary that deploy this technology; Drayton Valley is showcasing how small towns can embrace digital technology to engage citizens on the latest mobile devices."
About Purple Forge
Purple Forge is an award winning Software as a Service (SaaS) provider of mobile-first community engagement and self-service solutions. Our customers include: governments, venues, telecommunications service providers, financial institutions, healthcare and membership-based organizations. Purple Forge's platform and smart connected apps offer a comprehensive set of features that span web, mobile, wearables, social, cognitive computing and the Internet of Things. Purple Forge helps our customers increase their community engagement, gain insights into unmet needs, and reduce service delivery costs.