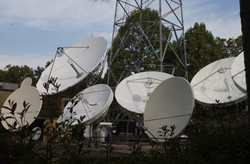 While their requirements differ greatly, all of our clients count on us to flawlessly deliver their media and effectively manage their network on a 24/7/365 basis
Raleigh NC (PRWEB) July 02, 2015
A major domestic power and energy company recently contracted with Microspace for their critical communications requirement. That requirement included immediately delivering up to the minute weather related video feeds to media outlets throughout their state. The organization looked at a number of options and concluded that the Microspace solution effectively met their video broadcasting needs and did so cost effectively.
According to Greg Hurt, VP of Sales and Marketing at Microspace, "While their requirements differ greatly, all of our clients count on us to flawlessly deliver their media and effectively manage their network on a 24/7/365 basis. This is especially the case when dealing with emergency management networks where timely information delivery can save lives."
Microspace Communications has almost 3 decades of experience in providing cost effective and reliable content delivery and managed service solutions for its customers. These customers have a wide variety of needs including live video broadcasting, video and audio streaming as well as multimedia file delivery to networks as small as a half dozen to as large as tens of thousands.
Microspace understands that providing its services to Emergency Management organizations takes on an added level of responsibility. Hurt added, "The companies we work with must get a critical message to a select group of recipients in a very timely manner". Many of these organizations have utilized Microspace for years and know they can count on us day in and day out".
Microspace is a Capitol Broadcasting Company. CBC is a diversified communications company which owns and/or operates WRAL-TV, WRAL Digital, WRAZ-TV, WRAZ Digital, WRAL-FM, WRAL-HD2, WCMC-FM, WCMC-HD1, WDNC-AM, WCMC-HD2, WCMC-HD3, WCLY-AM, WCMC-HD4, Microspace, CBC New Media Group and Wolfpack Sports Properties (a joint venture with Learfield Sports) in Raleigh, NC; WILM-TV, WILT-LD and Sunrise Broadcasting in Wilmington, NC; The Durham Bulls Baseball Club in Durham, NC; and real estate interests including the American Tobacco Project and Diamond View office buildings in Durham, NC.