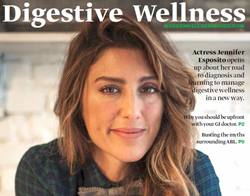 (PRWEB) June 30, 2015
The campaign aims to make digestive wellness a more conversational topic, educating on the importance of your GI tract, the different forms of digestive disorders over 70 million Americans face and inspiring readers to be more proactive by providing them the tools they need to keep their system in tip-top shape.
The print component of "Digestive Wellness" is distributed within USA Today in Los Angeles, New York, Chicago, Miami and Minneapolis, with a circulation of approximately 250,000 copies and an estimated readership of 750,000. The digital component is distributed nationally, through a vast social media strategy, and across a network of top news sites and partner outlets. To explore the digital version of the campaign, click here.
Actress and model Jennifer Esposito graces the cover in support of celiac awareness. Esposito opens up about her road to diagnosis and, ultimately, the long journey to trusting what her body was telling her, as well as how she manages her wellness in a gluten-free way.
This campaign was made possible with the support of the Gastrointestinal Motility Program at Cedars-Sinai, Jennifer Esposito, University of Pittsburgh Medical Center, Danielle Walker, the Colon Cancer Alliance, American College of Gastroenterology, GI & Liver Assocation of the Americas, National Association For Continence, NFCA, Ebro Foods, Sigma-Tau Pharmaceuticals, Biocodex, easyGopro, Quintron, Butterfly, Emisphere, Aloecure and many others.
About Mediaplanet
Mediaplanet is the leading independent publisher of content-marketing campaigns covering a variety of topics and industries. We turn consumer interest into action by providing readers with motivational editorial, pairing it with relevant advertisers and distributing it within top newspapers and online platforms around the world.