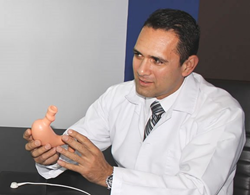 77% of people improved their high cholesterol
Mexico (PRWEB) June 30, 2015
According to the World Health Organization, the U.S. and Mexico have the highest rates of obesity in the world. In other words, one in six people in the state suffers from obesity while one in three teenagers also suffers from the same. The re-opening of the Gastric Sleeve Surgery Center in Mexico aims to reduce those numbers through new bariatric procedures. Headed by Dr. Huacuz, the facility has effectively opened its doors to Mexico and U.S. residents who wish to lose substantial weight in less time.
When asked about the inspiration behind the new procedure and facility, a spokesperson from the clinic had this to say, "The number of people suffering from obesity and massive weight gain is staggering to say the least. Traditional weight loss exercise regimes and diets barely make a dent for those whose BMI exceeds 30 or 40. Not only is the excessive weight harmful for their health, but it can be life threatening as well. Our new state of the art facility is equipped with the quality surgical equipment and trained staff who have experience treating and taking care of large patients."
Gastric Sleeve Procedure is a surgical technique that removes a large portion of the stomach and effectively reduces it to 75% of its original size. The stomach walls are then stapled together to create the sleeve which takes the shape of a narrow tube that effectively functions as a new stomach for the patient. In other words, the stomach is minimized to accommodate less food and thus aid weight loss post surgery. The procedure can be followed up by a traditional Gastric Bypass Surgery once the patient loses enough weight to make it applicable.
The procedure also eliminates the hunger inducing hormone, Ghrelin to reduce appetite. Most patients who opt for the surgery report that they feel full after eating a small meal and experience substantial weight loss after a few months post surgery. Many claim that they lost 58% of their weight after undergoing the procedure. However, according to doctors, regular exercise and a strict diet regime is necessary to see these numbers.
The procedure is comparatively non-invasive and does not require rerouting the intestines, nor does the surgeon need to plant a band around the stomach like other Bariatric surgeries. The procedure is typically advised for patients who are morbidly obese, i.e. those with a BMI over 40 and is safer compared to alternatives such as lap band and duodenal switch which can result in complications. One of the main benefits of the procedure is that no foreign objects are introduced in the body during surgery and which the staff at the Gastric Sleeve Surgery Center is quite knowledgeable about.
About Dr. Huacuz
Dr. Daniel Huacuz graduated with a degree in General Medicine and attended the University of Michoacán, Mexico for his post doctoral degree on General Surgery from the General Hospital of Tijuana. He has attended several conventions and training sessions on topics pertaining to morbid obesity and particularly bariatric surgery and also gives lectures pertaining to bariatric procedures at the University School of Medicine in Baja, California. Dr. Huacuz is also an active member of the Association of Bariatric Surgery in Mexico, General Surgeons of Tijuana Baja California Mexico and Medical Association of Endoscopic Surgeons among others. He specializes in performing multiple bariatric procedures besides the new Gastric Sleeve Surgery which include Gastrointestinal Metabolic Surgery, Vertical Sleeve Gastrectomy, Hernia Surgery, Laparoscopic Bariatric Surgery, Gastric Bypass Surgery and Duodenal Switch Procedure.
Contact Details
Address: 511 E San Ysidro Blvd 1335 92173
Phone number: 619-270-5388
Email: info(at)certifiedbariatricsurgeons(dot)com