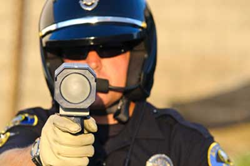 The Los Angeles Traffic Courts have effectively created thousands of new Driving on Suspended Driver's License ticket cases, with the stroke of a pen."
Los Angeles, CA (PRWEB) July 06, 2015
Beginning on April 8, 2015, "the Los Angeles Traffic Courts have created thousands of new Driving on Suspended Driver's License ticket cases, with the stroke of a pen and with no public notice," says traffic attorney John J. Pearson.
The Traffic Court's new secret unpublished policy prevents drivers from releasing the "DMV Hold" on their driver's license before hearing, which then leads to a suspended driver's license for an old ticket. Often Drivers never even know that their driver's license is suspended before the ticketing Police Officer informs him or her of the driver's license suspension.
Unfortunately, Drivers facing these misdemeanor tickets will usually be charged with a misdemeanor crime that may lead to 6 months in jail, and/or probation up to 3 years and an approximately $1,200.00 fine plus two driver's points with significant insurance cost increases in the thousands of dollars for several years following the criminal conviction.
That is why finding an experienced traffic ticket and misdemeanor suspended driver's license attorney is extremely important.
CheapTrafficAttorneys.com is fighting back. The founding attorney of CheapTrafficAttorneys.com, John J. Pearson, Esq., has nearly 20 years of legal experience, and is a former police officer with experience in traffic and DUI matters. The Attorneys of CheapTrafficAttorneys.com bring traffic expertise to the courtroom, giving all clients the chance to avoid office visits, missing work, and time-consuming court dates. In most cases, clients do not need to appear in Court.
In addition to suspended driver's license tickets, this team of legal experts also offers drivers representation with speeding tickets, fix-it tickets, red light tickets, FTA warrants, stop sign tickets, cell phone tickets, texting tickets and more.
Visit http://www.cheaptrafficattorneys.com or call (310) 945-5655 for more information. Their office is located at 13101 West Washington Blvd, Ste 454 in Los Angeles, CA 90066.