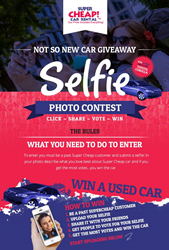 We've been delighted with the response to the contest
Los Angeles California (PRWEB) June 30, 2015
Throughout 2014 and 2015 Super Cheap Car Rental has been running their Not So New Car Giveaway Contest to great success. Hundreds of contestants have been applying to win the big vote that will take place over Facebook. The official deadline for the contest is 1 October 2015.
This year marks the second annual Super Cheap contest. The Not So New Car Giveaway Contest is the only one of its kind in the industry to have run for two consecutive years, and hopes to keep the streak going. The success of the contest increases with each passing year, as clients love the idea that they can win a car just by posting a selfie onto Facebook. "We've been delighted with the response to the contest", says Super Cheap Car president Danny Barker.
For those who are interested in the contest, it's not too late. All applicants must do is take a selfie and post to the contest page with a caption that states why they love Super Cheap Car Rental. https://www.facebook.com/SuperCheapCarRental/app_451684954848385
All contestants must make sure their selfies involve only themselves, and doesn't have anyone else in the picture to avoid privacy issues. Also ensure that all selfies refrain from vulgarity or obscenities, and follow the protocols outlined by Facebook's privacy and obscenity rules.
There are only a few months left of the contest so grab a camera, and join the crowds of others who are enjoying the fun.