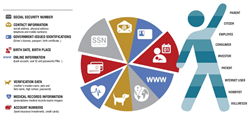 This model of secure data storage puts the control and access of PII in the hands of the user/owner of the data, affording users the peace of mind that their PII data is secure.
Santa Barbara, CA (PRWEB) November 30, 2015
Image-X has developed 'PII Vault' to secure users' PII (Personal Identifiable Information) which can be used to uniquely identify customers. Common examples of PII include: name, birth date, address, driver's license, social security number, e-mail, credit card, and bank account information.
The 'PII Vault' was created in reaction to recent large scale data breaches at corporations such as Target, Anthem Blue Cross, Home Depot, etc.) These highly publicized events resulted in a great deal of bad publicity, with millions of dollars in damages, lawsuits, extensive losses in revenue and market share for these organizations. These breaches do not only have negative consequences for corporations but also on the people who's PII has been stolen.
Image-X has realized access to PII needs to be under control of the user. This is shifting away from the current paradigm of companies, healthcare providers, and schools managing and attempting to secure a users' most sensitive and personal information. Over time many users become unaware of all of the companies who are storing their PII, leaving their PII at risk.
Solution:
The 'PII Vault' is based on PKI (Public Key Infrastructure) in which each user on the system is issued a unique X.509 digital certificate. Each file identified as containing PII information is individually encrypted using their digital certificate, ensuring that users have complete control over their data. The flexibility of PII Vault allows for both local and cloud based storage. Image-X was granted a patent in 2013 for this process titled 'Method and Apparatus for Storing Confidential Information (Patent No. 8,613,105)'.
In the event of a data breach the hackers will only have access to encrypted files which can't be opened or viewed without the users' digital certificate, which acts as a digital key, possessed only by the PII owner. This has the added effect of reducing the incentive of hackers attempting to acquire stolen files as they are not able to unencrypt users' PII.
In the event that a user's PII needs to be accessed by a company, they would need to contact the user as access without permission is prevented by encryption. The user would then login with a representative of the company and provide access to their PII while supervising the company representative. After completing the transaction the user's data is then encrypted, making it no longer accessible until the user again gives their permission. This model of secure data storage puts the control and access of PII in the hands of the user/owner of the data, affording users the peace of mind that their PII data is secure.
About Image-X Enterprises Inc.:
Image-X Enterprises Inc. was founded in 1989 with the purpose of bringing innovative solutions to the field of document management and workflow. Since then, they have launched a nationally renowned portal-based digital signature solution. In 2014 Image-X was selected by Computer Technology Review magazine's for its prestigious "Top 25" award.
The client centric development process employed by Image-X sets them apart from their competitors. The development process created by Image-X over the last 25 years focus on agile project management methodologies where client requirements and feedback are at the forefront of the design process.
Image-X maintains a public certificate authority (CA) EsignIT, the EsignIT CA undergoes an annual Web Trust for Certificate Authorities audit performed by an independent accountant. The EsignIT web trust seal can be found at the following website. Furthermore, Image-X is an approved Digital Signature Certification Authority registered with the Washington Secretary of State.