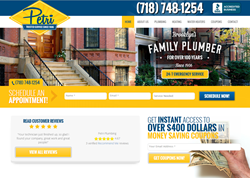 We've been making major investments recently toward our company's future.
BROOKLYN, N.Y. (PRWEB) June 30, 2015
Petri Plumbing and Heating, Inc., a leading plumbing and home service company serving Brooklyn and Manhattan since 1906, has an all-new, fully-functioning website. The new website supports Petri's recent rebranding, while providing Brooklyn area homeowners with a more user-friendly platform to navigate.
Petri Plumbing invites homeowners to explore its new design, developed for optimized functionality and navigation. The website's responsive design now adopts mobile compatibility with today's browsers and encourages customer engagement through easy access to Petri's social media accounts.
"We've been making major investments recently toward our company's future. As a business established for more than 100 years, it's important to us to maintain our company's vision while updating our overall brand," said Petri Plumbing owner Michael Petri. "We believe this new, better-functioning website still captures who we are."
Although the company has undertaken a complete rebranding with a new company logo, new service trucks and now a new website, its 100-year legacy remains. Petri continues to serve the Brooklyn- and Manhattan-area communities with the same trusted customer service as before.
The company partnered with Seequs Marketing Technologies, a team of internet marketing and web design specialists, in its website design development.
"Petri Plumbing's new site was created to greatly increase usability and user experience. Customers can now find the information they are looking for more easily and can quickly contact Petri for service or additional information," said Stephen Christopher, Seequs Marketing Technologies CEO. "We worked with Petri to remove unnecessary items on the homepage and internal pages from the previous design. Now, it is much easier for users to easily contact Petri, find the information they need and view the site on any device and screen size."
To find out more and to experience Petri Plumbing's new website, visit petriplumbing.com or call 718-748-1254 for more information.
About Petri Plumbing and Heating, Inc.
Petri Plumbing and Heating, Inc. is a family owned and operated business serving Brooklyn and the New York City area. Founded in 1906, the company offers a 100 percent guarantee on all services, upfront pricing, and friendly and knowledgeable Service Experts for all kinds of home and business plumbing and heating needs. Services offered include water and gas pipe leak repair and installation, fixture installations, inspections, boiler repair, water heater installation, complete bathroom, kitchen, laundry & utility room remodeling and more. Petri Plumbing is also licensed and certified by Green Plumbers USA - the first in New York City. For more information, please visit: http://www.petriplumbing.com/
###
For additional information, contact:
Heather Ripley
Ripley PR
865-977-1973
hripley (at) ripleypr (dot) com