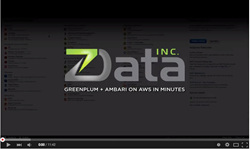 zData's Ambari Extensions has created quicker deployment options and POC initiatives within the cloud environment for Greenplum and other Pivotal products, many of which would not have been possible several years ago. - Tony Wasson, CIO
San Francisco, California (PRWEB) July 02, 2015
zData is proud to announce the release of their new tutorial video "Greenplum and Ambari on AWS in Minutes." This video track takes you through the steps of installing an MPP Pivotal Greenplum Database on Amazon Web Services using Apache Ambari, to provision and manage the services to a cluster. This GUI driven automated toolset saves time and allows for ease of management and monitoring all in one place. zData's new Ambari Extensions are embedded as part of the Ambari deployment process and include HAWQ on Hortonworks, Pivotal HD, Greenplum and Minecraft. This standardized installation architecture allows individuals or companies to test out the latest Pivotal technologies quickly and easily within AWS or on-premise. zData is the first to walk you through this process by providing a step by step tutorial video and written documentation that takes just minutes. To get started click here.
zData provides Big Data consulting and solutions for both commercial and enterprise corporations, employing experts in all areas of the field from software engineers to data scientists. They work with top hardware and software providers for on-site and off-site consulting, managed services, trainings, and long term scalable data solutions both on-premise and in the cloud.
To watch the video and download the easy quickstart guide visit zData's Ambari Extensions at ambari.zdatainc.com or contact zData at ambari(at)zdatainc(dot)com.